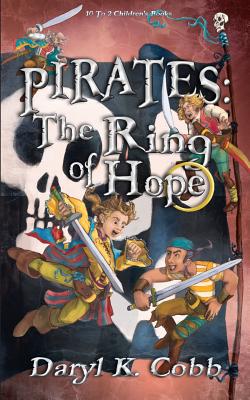 Pirates
The Ring of Hope
Paperback

* Individual store prices may vary.
Other Editions of This Title:
Paperback (1/14/2015)
Paperback (1/2/2011)
Description
Kirkus Reviews calls Pirates: The Ring of Hope ... A] spirited swashbuckling tale of mystery and magic." "Cobb's 14th book comes complete with pirates, mysterious messages and a magic ring. . . . The characters are rich and beautifully rendered, and the story is sprinkled with humor. . . . Much of the dialogue - especially between Peter and Monk and Antonio and Marcus - is delightfully silly. . . . A] spirited swashbuckling tale of mystery and magic." Go to kirkusreviews.com for the complete review Kirkus is a leader in professional book reviews Pirates: The Ring of Hope is a story that will be enjoyed by boys and girls of all ages (10 & up), but this is also the type of book that 'PARENTS' will enjoy reading as well. If you like mystery, suspense and you love humor-- then you need to read Pirates. Pirates: The Ring of Hope (Mystery-Suspense, for ages 10 and up, Chapter Book 284 pages) is amusing, touching and filled with twists and turns to keep you guessing from beginning to end. It is a pirate mystery that captures the minds of KIDS and ADULTS alike. A mysterious bottle with a deadly message is at the center of this pirate story that finds the crew of the Rising Sea unknowingly in grave danger. The evil Captain Darfous Warner has his sights set on The Ring of Hope and he will stop at nothing until he gets what he wants. Twelve year old Peter Nichols steps out of the modern world and right into the middle of this pirate mystery that has him struggling with right and wrong, good and evil and the meaning of friendship and family. After a week filled with strange dreams, missing friends and menacing pirates, Peter's struggle to do the right thing comes to a head as he puts not only himself but his best friend in danger of becoming casualties of Captain Warner's deadly plot. "The Ring of Hope" is a suspenseful story that weaves the legend about a mystical gold ring into a story about the good guys versus the bad guys.
10 to 2 Children's Books, 9780615537436, 292pp.
Publication Date: December 8, 2011
About the Author
Daryl Cobb lives in New Jersey with his wife and two children. Daryl's writing began in college as a Theatre Arts major at Virginia Commonwealth University. He found a freshman writing class inspiring and, combined with his love for music and the guitar, he discovered a passion for songwriting. This talent would motivate him for years to come and the rhythm he created with his music also found its way into the bedtime stories he later created for his children. The story "Boy on the Hill," about a boy who turns the clouds into animals, was his first bedtime story/song and was inspired by his son and an infatuation with the shapes of clouds. Through the years his son and daughter have inspired so much of his work, including "Daniel Dinosaur" and "Daddy Did I Ever Say? I Love You, Love You, Every Day." Daryl spends a lot of his time these days visiting schools promoting literacy with his interactive educational assemblies "Teaching Through Creative Arts." These performance programs teach children about the writing and creative process and allow Daryl to do what he feels is most important -- inspire children to read and write. He also performs at benefits and libraries with his "Music & Storytime" shows. He is a member of the SCBWI.