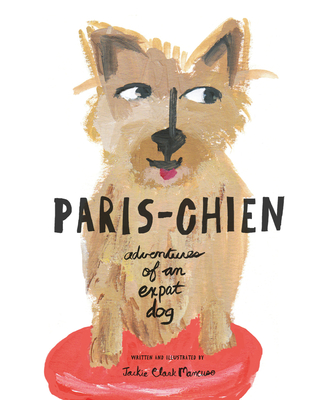 Paris-Chien (Hardcover)
Adventures of an Expat Dog (A Paris-Chien Adventure)
La Librairie Parisienne, 9780615545424, 32pp.
Publication Date: June 5, 2013
* Individual store prices may vary.
Description
When Hudson, an adventurous Norwich terrier, moves to Paris, he loves the sights and smells. But when he tries to make friends, he discovers the Parisian dogs only speak French. Though initially disheartened, little Hudson's desire to make friends is so strong that he learns a new language. Paris-Chien strikes a universal chord as it shows how it feels to be the new kid in any situation.

Gouache illustrations of markets, cafes, dogs, and parks make Paris come alive. French words appear in a petit dictionnaire at the end, so you'll even learn a little French.
About the Author
Jackie Clark Mancuso is the author and illustrator of a picture book series about Hudson, an American dog living in Paris. The books have been praised by Kirkus Reviews and Publishers Weekly for their humor and originality, featured in museum bookstores to introduce children to art, and singled out by librarians and teachers for their positive role models and educational value in early language learning. Like many children's classics, the books are as much appreciated by adults as by children. Visit jackiemancuso.com and @jackieclarkmancuso on Instagram.
Praise For Paris-Chien: Adventures of an Expat Dog (A Paris-Chien Adventure)…
"Paris-Chien showcases Mancuso's playful gouache paintings of Paris' human and canine denizens, and gives Hudson a bold, amusing narrative voice . . . Determined to make friends, Hudson eventually learns a new language, thanks to lessons from—who else?—a French poodle. A petit dictionnaire serves as an introduction to learning French."   —Publishers Weekly
"A fun tale of adapting to life in Paris. The colorful gouache illustrations of dogs, people and city scenes have loads of personality and emotion... strikes a universal chord as it shows how it feels to be the new or different kid in any situation." —Common Sense Media
"Children and adults alike will enjoy the 'fish out of water' story…. The gouache artwork is particularly charming, and the color palette and stylized 20th century French artists such as Matisse." —Margo Tannenbaum, Children's Librarian
"Take one incredibly cute dog to Paris. Beautifully illustrate him and scenes around Paris in gouache. Voilà! You have a fun and engaging masterpiece." —The Picture Book Review
"From home sickness to French lessons to the struggle to make Parisian friends, this book carries a message for children about how to cope with change in their lives." —Paris Voice
"Caught the vibe of the city perfectly." —BARK magazine
"Think of it as Me Talk Pretty One Day from the point of view of a dog and written and illustrated for children." —Amy Adams, Children's Librarian
"Delightful!" —Travel for Kids