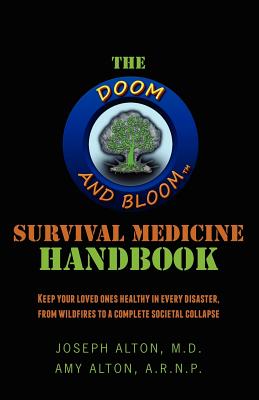 The Doom and Bloom(tm) Survival Medicine Handbook
Keep your loved ones healthy in every disaster, from wildfires to a complete societal collapse
Paperback

* Individual store prices may vary.
Description
***URGENT***The book you are seeing ABOVE is NOT our NEW BOOK Our revised and expanded 700 page Third edition can be found by searching: "The Survival Medicine Handbook". The FULL Title is "THE SURVIVAL MEDICINE HANDBOOK: THE Essential Guide for When Medical Help is Not on the Way" The cover has a road and a large medical kit with a white cross on it and storm clouds at the top. IT is now available on Amazon. AGAIN: ***The new title is "The Survival Medicine Handbook: A guide for when help is NOT on the way".*** The #1 Amazon Bestseller "survival medicine handbook" is meant for those who want to ensure the health of their loved ones in any disaster situation, from hurricanes to a complete societal collapse. Integrative medical strategies abound for situations in which medical help is NOT on the way. This book will teach the non-medical professional how to deal with all the likely medical issues they will face in a disaster situation in plain English. You'll learn skills like performing a physical exam, care of traumatic injuries and infectious disease, and even how to suture a wound.
Doom and Bloom LLC, 9780615563237, 440pp.
Publication Date: January 19, 2012
About the Author
ABOUT JOSEPH ALTON, M.D. AND AMY ALTON, A.R.N.P. Joseph Alton practiced as a board-certified Obstetrician and Pelvic Surgeon for more than 25 years before retiring to devote his efforts to preparing your family medically for any scenario. He has been a Fellow of the American College of Obstetrics and Gynecology and the American College of Surgeons for many years, served as department chairman at local hospitals and as an adjunct professor at local university nursing schools. He has been a speaker at various survival and preparedness conferences on the subject of medical readiness in austere times. A member of MENSA, Dr. Alton collects medical books from the 19th century to gain insight on off-the-grid medical protocols. Amy Alton is an Advanced Registered Nurse Practitioner and a Certified Nurse-Midwife. She has had years of experience working in large teaching institutions as well as smaller, family-oriented hospitals. Amy has extensive medicinal herb and vegetable gardens and works to include natural remedies into her strategies. Dr. and Ms. Alton are both Master Gardeners for their state. They also are devoted aqua culturists (currently raising tilapia) and aquaponic, raised bed and container gardening experts. Additionally, they are contributors to magazines like Survivalist and Backwoods Home. As "Dr. Bones and Nurse Amy", they host a blog and radio program under the Doom and Bloom(TM) label. Dr. and Ms. Alton are firm believers that, to remain healthy in hard times, we must use all the tools at our disposal. Their goal is to promote integrated medicine; in this way, their readers will have the most options to keep their loved ones healthy in a disaster or collapse situation.
or
Not Currently Available for Direct Purchase