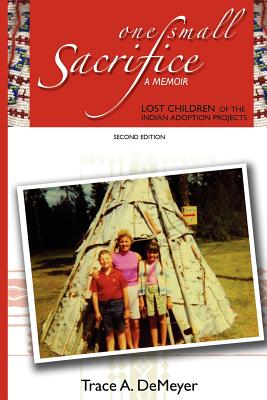 One Small Sacrifice (Paperback)
A Memoir: Lost Children of the Indian Adoption Projects
Blue Hand Books, 9780615582153, 286pp.
Publication Date: April 26, 2012
* Individual store prices may vary.
Description
"It's an unforgettable memoir"Award-winning journalist Trace A. DeMeyer's second edition has even more of her remarkable story and the disturbing history of closed adoption used to break up tribal families....What is known about the Indian Adoption Projects and the aftermath has been pretty much secret . . . Until now. A reader praised her book: The journey, the courage and openness of your work. It's very inspiring. The way 'Small Sacrifice' shares itself . . . it's as if the book were speaking . . . holding a talking stick with us all gathered in a circle . . . we come together through your sacrifice. Trace blogs at: www.splitfeathers.blogspot.com.
About the Author
Award-winning journalist and author Trace A. DeMeyer has released her second edition One Small Sacrifice: A Memoir, Lost Children of the Indian Adoption Project, which includes opening her adoption and little-known history of the Indian Adoption Project resulting in the Indian Child Welfare Act. Trace is former editor of the Pequot Times in Connecticut and editor/co-founder of Ojibwe Akiing; and she was news reporter and photographer at the national Native newspaper News From Indian Country in Wisconsin. Her academic writing, "Power, Politics and the Pequot: The world's richest Indians" was presented in Munich at the 26th American Indian Workshop. She is also the author of "Honor Restored: The Story of Jim Thorpe" in the book "The Olympics at the Millennium: Power, Politics and the Games 2000, published by Rutgers Press. Her writing, interviews and poetry has been published in newspapers and journals in the USA, Canada and Europe. Trace, a graduate of the University of Wisconsin-Superior, has received numerous news and feature writing awards. Among the many Native Americans she's interviewed, most memorable are American Indian Movement's John Trudell, recording artist Joanne Shenandoah, imprisoned Lakota warrior Leonard Peltier and late movie legend Floyd Red Crow Westerman from Dances with Wolves. ... Trace lives in western Massachusetts with her husband Herb.
or
Not Currently Available for Direct Purchase