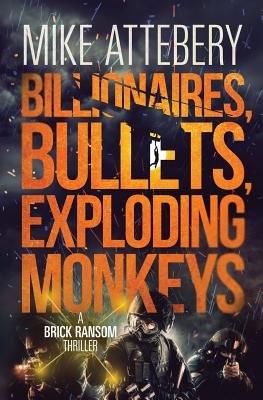 Billionaires, Bullets, Exploding Monkeys (Brick Ransom #1) (Paperback)
Michael Attebery, 9780615591438, 214pp.
Publication Date: June 7, 2012
* Individual store prices may vary.
Description
Seattle's richest man has been taken hostage in a terrorist attack. He'll have to negotiate like his life depends on it
Software billionaire Jeff Pepper chose the wrong day to check on the research project he's been funding at a Seattle university. When gunmen seize control of the building, aiming to get their hands on a horrifying new weapon, the world-famous entrepreneur is ensnared in a nerve-wracking hostage situation, one in which he is an all-too-valuable pawn.
As the body count rises, Pepper's fate rests in the hands of Brick Ransom, a SWAT team leader with a wry sense of humor and a slippery trigger finger. Time is running out, and if Brick and his team can't save him, Pepper will need to use every negotiating trick up his sleeve to see that he and his fellow captives make it out alive...
About the Author
Mike Attebery earned a Bachelor of Fine Arts Degree from the School of Film and Animation at the Rochester Institute of Technology. When he isn't writing or editing books and screenplays, Mike spends his days worrying about... everything, and kicking and knocking on stuff to see what it's made out of. He lives in Seattle, Washington with his wife and their two ferrets, Winter and Mocha. He is currently at work on his fourth novel.