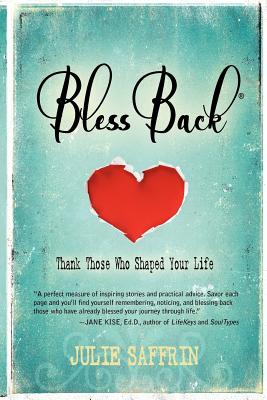 Blessback(r) (Paperback)
Thank Those Who Shaped Your Life
Ottertail Press, 9780615593951, 232pp.
Publication Date: March 22, 2012
* Individual store prices may vary.
Description
Imagine if you and your memories held the power to create positive, lasting change both in your life and the world around you. In BlessBack, Julie Saffrin guides us to reflect, connect with and thank the significant people who shaped our lives.
With a blend of true stories and research, BlessBack:
Reveals why giving thanks matters to you, both mentally and physically, as well as to your recipients
Explores how practicing gratitude creates a cycle of sustained happiness and a transformed life
Offers 120 creative and compelling ideas to help you journey toward positive, lasting change
Give a BlessBack. Change your life. Change the world.
Tell your BlessBack story at www.BlessBack.com
Endorsements:
"In BlessBack: Thank Those Who Shaped Your Life, Julie Saffrin asks readers to intentionally honor those who have helped them become who they are today. Not only does she explore the power of gratitude as it pertains to each of us, but she explores gratitude's power to change the world exponentially."
- Dr. Dwight "Ike" Reighard, Inspirational Speaker & Author, co-author of The One Year Daily Insights with Zig Ziglar
"A perfect measure of inspiring stories and practical advice. Savor each page and you'll find yourself remembering, noticing, and blessing back those who have already blessed your journey through life."
- Jane Kise, Ed.D., author of LifeKeys and Soul Types
"An injection of positive inspiration that makes me eager to thank those whom I appreciate from my past and opens my grateful eyes to those who help me in countless ways today."
- Margaret Wakeley, Gratefulness.org
"What a beautiful book filled with wonderful ideas on gratitude. Blessback is an incredible gift. It teaches, inspires and offers practical, real-world advice on how to extend and expand your appreciation through offering BlessBacks. Once you get reading Blessback, it is hard to put it down "
- Leigh Anne Saxe, Happiness Coach and Inspirational Speaker, (www.livinginthemoment.ca ), Toronto, Canada
About the Author
JULIE SAFFRIN is the author of numerous articles and essays. She received her bachelor's degree in print journalism and English from the University of St. Thomas. She divides her time between her home in Minneapolis and her Adirondack chair at the lake in Ottertail County with her husband Rick, sons Sam, Joe and Jake, and a golden retriever named Mick. She can be reached at www.JulieSaffrin.com.