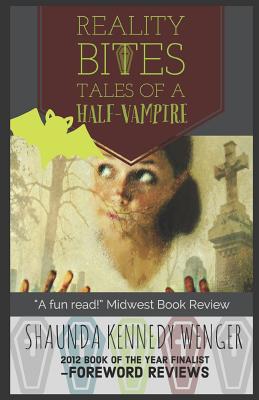 Reality Bites (Paperback)
Tales of a Half-Vampire
Essemkay Company Productions, 9780615614298, 206pp.
Publication Date: June 4, 2012
* Individual store prices may vary.
Description
Mackenzie may be half-vampire and therefore half-dead, but she knows how to grab life by the horns and do her best to fit in. For her, fitting in has always meant keeping her family of vampires, witches, and other monsters a secret. When a family reunion conflicts with her plans for meeting the boy of her dreams at the Halloween ball, Mackenzie finds herself battling for her own destiny. If she succeeds in proving she doesn't want to be another vampire, will Mackenzie uncover a new magic that surrounds what (and who) she will become? A humorous novel suitable for young readers in search of their own destiny.2012 Foreword Reviews Book of the Year Finalist "A fun read that young people will relish with their own struggles of fitting in." -- The Midwest Book Review Bookwatch"Would I recommend this read? Oh, oh so definitely." -- Andrea Kurian, Mommy Adventures With RavinaOTHER WORKS by Shaunda Kennedy WengerThe Ghost in Me, a 2013 Indie B.R.A.G Medallion BookLittle Red Riding Hood, Into the Forest Again, a 2011 KART Book List winner and 2012 Purple Dragonfly Honorable MentionThe Book Lover's Cookbook, Recipes From Celebrated Works of Literature and the Passages That Feature ThemFrom Rivets and Rails, Recipes of a Railroad Boarding House Cookbook.
About the Author
Shaunda is the author The Ghost in Me and the award-winning Little Red Riding Hood, Into the Forest Again. She is also co-author of The Book Lover's Cookbook: Recipes Inspired by Celebrated Works of Literature and the Passages That Feature Them. Her other children's books include In Black Bear Country, Caterpillar Can't Wait, and How Many Muffins, which are published for the educational market. Her children's poems have appeared in Babybug and Cricket magazines. She is currently whipping up another novel dipping in the world of magic.