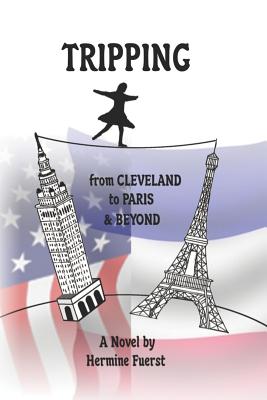 TRIPPING From Cleveland to Paris & Beyond (Paperback)
Dolmen Books, 9780615617459, 284pp.
Publication Date: June 11, 2012
* Individual store prices may vary.
Description
TRIPPING is the story of Barbara Glass, an American misfit from the Silent Generation who, after a heartbreaking loss, decides to say "Goodbye Cleveland... Bonjour Paris " She embarks on a voyage of self-discovery, and the result is a fascinating series of adventures and misadventures. From 1957 to 1967 our heroine, nicknamed Bear, "trips" from Cleveland to New York, London, Paris, Siena and Algiers. Along the way she encounters history-making events and people, both ordinary and extraordinary, who shape her life. Death, both peaceful and violent, punctuates her experiences and brings hard-earned wisdom. The title of the book says it all -- tripping as in stumbling (but trying not to fall), tripping as in drugs (supposed to be harmless but actually lethal), and tripping as in travelling all over the place and enjoying every minute of it. You'll want to read this book if you are a student of French language or history. Crazy about Paris or just dreaming about it? Interested in the Silent Generation? You'll find lots to chew on in this book. Interested in women's issues? TRIPPING explores many of them -- including self-discovery, abortion, amphetamine addiction, gaining assurance in a man's world, the elusive female orgasm, etc. -- which remain controversial even today. There's also a whodunit aspect to TRIPPING when the mystery of the death of one of the protagonists is finally explained at the end of the book.
About the Author
After graduating from Heights High in 1952, Hermine Fuerst attended what was then Flora Stone Mather College at Case Western Reserve University, receiving a BA in French Literature in 1956. A stint in New York as a production assistant at NBC Television gave her the necessary funds to achieve her dream, and she arrived in France in late 1957. Once there, a tip from a friend landed her what was supposed to be a temporary job as secretary to Alain Bernheim, a Franco-American literary agent. She ended up working with Bernheim for thirteen years, following which she became head of the literary department of the William Morris Agency in Paris. Her career as an agent was followed by marriage and a family, punctuated by numerous writing assignments. Besides magazine articles and an opera libretto, she wrote the English adaptation of dozens of French film scripts. She is a member of the French Authors Guild (SACD) and co-author of a series of language courses. Currently she divides her time between her two residences, one in Southern California and the other in the French countryside.