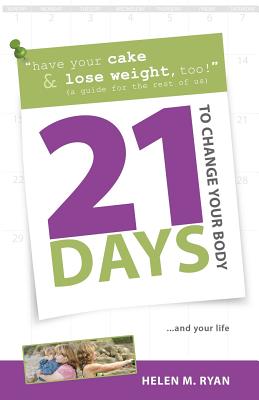 21 Days to Change Your Body (Paperback)
Real World Guides, 9780615641911, 204pp.
Publication Date: May 26, 2012
* Individual store prices may vary.
Description
Do you want to eat the foods you love and still lose weight? In this fresh, new approach to weight loss, 21 Days to Change Your Body (and Your Life) will show you how to lose weight by changing the way you think about dieting. Be healthier, happier and enjoy a better quality life--while still living fully. Based on the author's own experience with losing more than 80 pounds, Helen M. Ryan shows you how to overcome the mental blocks to weight loss success, how to fit exercise into your busy day, and what you should doing and eating to fit into your "skinny jeans." Finally, a real book for real people that offers a step-by-step guide that will help you win the (mental) weight loss war. It's real, honest, refreshing and engaging. Are you ready to take back your life and lose weight? Let's begin your future. It starts now. Visit the book web site at 21daystochangeyourbody.com.
About the Author
Helen M. Ryan is a freelance writer, speaker, and "life reinventor." Helen knows what it feels like to be fat-so fat that she could not even tie her own shoes. She overcame her challenges with weight and lost 82 pounds, becoming a fitness pro in the process. Her passion is to help others lose weight, get healthy and change their lives. Helen is an ACE-certified personal trainer, certified Pilates instructor and certified Spinning(R) instructor. In her free time, Ryan interviews rock stars, photographs rock concerts, and eats chocolate (really). She still teaches Spinning(R) classes, which is another passion--and one of the things that saved her life. Helen lives in California, and has two awesome children.