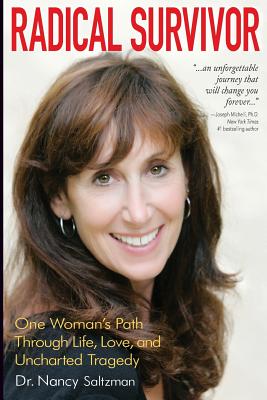 Radical Survivor
One Woman's Path Through Life, Love, and Uncharted Tragedy
Paperback

* Individual store prices may vary.
Description
"Radical Survivor" chronicles elementary school principal Nancy Saltzman's extraordinary saga as a two-time cancer survivor who lost her entire family in a small-plane crash. Told with honesty, insight, and laugh-out-loud flashes of humor, Radical Survivor traverses the full spectrum of human emotions. Several aspects of this book make it unique among memoirs: - The author has experienced an extraordinary number of life challenges: two bouts of breast cancer (resulting in a mastectomy and hysterectomy) before she turned forty; the loss of her entire family-husband and two young sons-in a small-plane crash when she was in her early forties; the death of her best friend in an auto accident; the premature death of her sister; losing her father to cancer and her mother to Alzheimer's Disease. - The story is uncommonly open and honest about what one must go through in a catastrophic accident resulting in multiple deaths. Yet it also shares the strength that can be mustered when necessary, and showcases one woman's remarkable resilience in the face of ultimate loss.- The book is enriched by letters to the author interwoven with narrative throughout the book. Most of the notes were received after the death of her family, but some are mementos from her husband and entries from her sons' journals before they died. These sentiments give the book added depth and poignancy. - Unlike many books about surviving personal tragedy, this is not a story of religious wakening or reliance on faith. The author finds her way within and by herself, with the support and love of friends and family. Religion is not ignored, but is also not the foundation of her strength.- Despite the sadness of the book's key circumstances, there is also a surprising amount of humor, joy and hope. As one reviewer noted, "Saltzman mixes the mundane with the morbid, and the painful with plenty of humor.
Nancy Saltzman, 9780615658193, 260pp.
Publication Date: September 7, 2012
About the Author
Dr. Nancy Saltzman is an Indiana Hoosier who now calls Colorado her home. She is found most mornings hiking with her two dogs, Nacho and Macy, in the foothills in Colorado Springs. She enjoys reading, taking pictures, having lunch with friends, and laughing. Dr. Saltzman holds a Ph.D. in education, was recognized as Colorado's National Distinguished Principal and was awarded the Cancer Society's Sword of Hope during her 32 year career as an educator and a school administrator. Saltzman is the author of the best selling memoir Radical Survivor published in 2012.