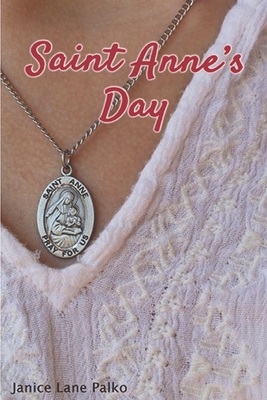 St. Anne's Day (Paperback)
Plenum Publishing Corporation, 9780615662244, 352pp.
Publication Date: July 23, 2012
Other Editions of This Title:
Paperback (2/1/2019)
* Individual store prices may vary.
Description
Can a woman who has given up on true love find it with a man who fears it?As Anne Lyons fumes while waiting in traffic on a refreshingly cool July morning in Pittsburgh, she glances out her car's window and observes that the day is so clear, you can almost see into the future. Little does Anne know how prescient she is for she is about to meet her destiny.Anne, who has recently been fired from her nursing position at a nearby hospital due to a flare up of her explosive temper, has been contracted as a private-duty nurse to care for Peg McMaster, an elderly spitfire who has recently been released from the hospital following heart surgery. The only complication--Peg's handsome son, Gerry "Mac" McMaster, who is one of the city's most eligible bachelors and the proprietor of Mac's Place, a popular night spot. His flirtations and charm unnerve Anne and his good looks, especially his gas-flame blue eyes, ignite something in Anne-something that disturbs her.Peg perks up when she is introduced to her new nurse. The old woman has been praying to St. Anne, the patron saint of housewives, to find a suitable wife for her playboy son before she dies, and she believes that Anne's arrival on the Feast of St. Anne, is the answer to her prayers. Peg and her friend Irma begin scheming to bring Anne and Gerry together, much to the chagrin of Gerry's current lover, the imperious Claudia. Anne bears terrible scars from a previous relationship, and she sees many of her former lover's traits in Gerry. The last type of man Anne wants to become involved with is another womanizer. As for Gerry, he has vowed never to settle down. Initially, Anne and Gerry clash, but when she finds herself, against her better judgment, falling in love with him, she is disturbed. Can she get beyond her hurt? Can she trust him with her heart? Can a man like Gerry, who goes through lovers faster than a premenstrual woman goes through chocolates, ever be serious about a woman?A romantic dramedy, St. Anne's Day, with its ensemble of memorable characters--Anne's fastidious mother, Grace; push-over father, Bill; and free-spirited roommate, Janetta--can be likened to Shakespeare's The Taming of the Shrew meets the TV sitcom Cheers. Readers have described it as spirited, sparkling and sassy.While hysterically funny, St. Anne's Day is also heartwarming and inspirational and will leave you cheering when Anne Lyon's day finally arrives.
About the Author
Janice Lane Palko grew up in Pittsburgh and is the author of the romantic comedy St. Anne's Day. A writer for more than 15 years, she is currently the executive editor of Northern Connection and Pittsburgh 55+ magazines, where she also pens a column and contributes regularly to the magazines' content. She work has also appeared in publications such as The Reader's Digest, Guideposts for Teens, Woman's World, The Christian Science Monitor, The Pittsburgh Tribune-Review and The Pittsburgh Post-Gazette. In addition, she her articles have been featured in A Cup of Comfort for Inspiration and A Cup of Comfort for Expectant Mothers and Chicken Soup for the Single's Soul. Janice has won several awards for her writing including the prestigious Amy Foundation Award of Merit and has a bachelor's degree in Writing & Literature from Union Institute& University. One of the inspirations for St. Anne's Day was the St. Anne prayer that her social studies teacher, Sr. Jane Frances, taught to the class so that all the girls would find prom dates. And they did!