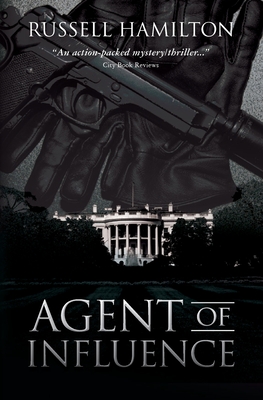 Agent of Influence (Paperback)
A Thriller
Russell Hamilton, 9780615662275, 398pp.
Publication Date: July 26, 2012
* Individual store prices may vary.
Description
Cairo, Egypt, 1953 - A secret sect calling itself the Brotherhood of the Caliphate splinters off from the Muslim Brotherhood as the storm clouds of revolution gather.Louisville, KY, 1973 - Political power broker and multi-millionaire Aman Kazim's Derby contending thoroughbred is slaughtered just hours before the race.Las Vegas, Nevada, 2004 - An unusual joint FBI/CIA operation goes horribly wrong as CIA agent Anna Starks vanishes in the glittering lights of sin city while attempting to track down a potential threat to the country.Washington DC, 2005 - Zachariah Hardin, a politician with a mysterious past has reached the zenith of his power as the first foreign-born president.From the back alleys of ancient Cairo, to the glitzy nightlife of Vegas, to the corridors of power in DC, Agent of Influence is the thriller ahead of the news cycle. Find out why reviewers are saying: "This is one roller coaster ride readers won't want to get off." Foreword Clarion Reviews."tightly plotted...If you are into Muslim conspiracy theories this is a particularly timely book...There is a scene from the 1973 Secretariat win at the Derby that is worth the price of admission." Bookreview.com"I enjoyed this book as much as any Tom Clancy/Vince Flynn/Dan Brown/Ian Fleming novel." Amazon review.In 2003 the California recall election sparked an idea that turned Agent of Influence from a 50 page dead end to a full length thriller. Before there was a debate over a birth certificate there was Agent of Influence, the first novel from Russell Hamilton. A native of Louisville, KY, the book is an outgrowth of his travels, voracious reading habits, and fascination with history and foreign affairs. For more information on Russell and the novel check out www.agentofinfluence.or.
About the Author
A native of Louisville, KY, Russell spent seven years researching and writing Agent of Influence in his spare time. A fast-paced thriller, the novel grew out of his travels as well as his obsession with history. A voracious reader, he devours as many history books as possible. On the fiction side his biggest influences are Tom Clancy, Ian Fleming, Vince Flynn, James Clavell, Daniel Silva, Robert Ludlum, and Ernest Hemingway. When he really has some free time on his hands he loves to go scuba diving and skiing. For more information about Russell or Agent of Influence check out www.agentofinfluence.org and find out why Bookreview.com says, "Hamilton has written as tightly plotted an international spy story as you are going to find in the genre." Agent of Influence was also one of 2000 novels/manuscripts considered for the 2011 Amazon Breakthrough Novel Award. For a sample of Russell's writing and some background information on Agent of Influence's main hero; CIA agent Anna Starks, check out The Wet Job, a collection of short stories on kindle for only 1.49.