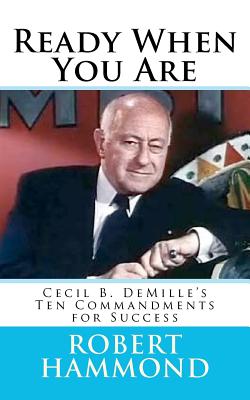 Ready When You Are (Paperback)
Cecil B. Demille's Ten Commandments for Success
New Way Press, 9780615673707, 134pp.
Publication Date: July 21, 2012
* Individual store prices may vary.
Description
Imagine if the legendary director who invented Hollywood and the Biblical epic offered you his personal secrets to unlimited wealth and power. Ready When You Are: Cecil B. DeMille's Ten Commandments for Success reveals the hidden keys for winning the race, decodes the secret strategies for resolving conflicts and turning enemies into allies, and uncovers the dynamic principles to becoming a valued and admired person at work and in your personal life. Cecil B. DeMille illustrates his unique insights and interpretations of the Ten Commandments with anecdotes about his personal successes and failures along with powerful and practical applications for living life beyond your wildest dreams. Ready When You Are weaves the timeless truths of one of our greatest spiritual foundations into a detailed road map for successful living today. When acclaimed director Steven Spielberg fell in love with movies after watching Cecil B. DeMille's Academy Award-winning film, The Greatest Show on Earth. Spielberg credited DeMille for teaching him how to put a lot of money on the big screen and then make the studios pay for it. In this powerful book, comparable to such classics as 7 Habits of Highly Effective People, The Purpose Driven Life, and The Secret, visionary filmmaker Cecil B. DeMille reveals his breakthrough strategies to achieve a life of financial success and personal fulfillment.
About the Author
Robert Hammond has authored numerous self-help books and is a popular national speaker on the subject of personal and professional achievement. He has appeared on over 300 radio and television programs. He has an MFA in Creative Writing, teaches screenwriting, and develops literary properties for film and television. Hammond's bestselling book, Life After Debt: Free Yourself from the Burdens of Money Worries - Once and for All sold over 100,000 copies. As the author of Identity Theft: How to Protect Your Most Valuable Asset, Hammond was the spokesperson for Capital One Financial Corporation's Identity Theft Prevention Program. Hammond is also a screenwriter, producer, and creative executive, with multiple film credits including the award-winning screenplay, C.B. DeMille based on his novel.