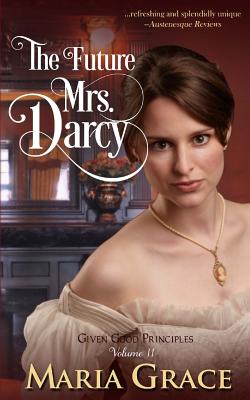 The Future Mrs. Darcy (Paperback)
Given Good Principles Volume 2
Good Principles Publishing, 9780615675053, 182pp.
Publication Date: July 25, 2012
* Individual store prices may vary.
Description
With the regiment come to camp in Meryton, many young ladies are pleased. Not all share their enthusiasm. Among them, Mr. Carver, who removes his family from Meryton's savage society. He blames, not on the militia officers, but the Bennet family.The flirtations and boisterous ways of the youngest sisters are too much to be borne. Not even Jane's renowned beauty and charm can make up for them. Elizabeth denies the allegations at first, but rapidly uncovers the shocking truth. The Carvers are not the only family to cut the Bennets from their acquaintance. Their reputations materially damaged, the family borders on social ruin. The news is too much for Mrs. Bennet who collapses from the shock. So, Elizabeth and her sisters must manage the estate until she recovers, a task for which none of them is prepared. Warned by Mr. Pierce, the local curate, that several of the officers have unsavory designs on the local girls, Elizabeth must find a way to honor her father, rein in her sister and salvage the family's reputation, all in the most ladylike way possible. Given Good Principles, Vol 2. Sequel to Darcy's Decision.
About the Author
Though Maria Grace has been writing fiction since she was ten years old, those early efforts happily reside in a file drawer and are unlikely to see the light of day again, for which many are grateful. She has one husband, two graduate degrees and two black belts, three sons, four undergraduate majors, five nieces, six cats, seven Regency-era fiction projects and notes for eight more writing projects in progress. To round out the list, she cooks for nine in order to accommodate the growing boys and usually makes ten meals at a time so she only cooks twice a month. She can be contacted at: author.MariaGrace@gmail.com. You can find her profile on Facebook: facebook.com/AuthorMariaGrace or visit her website at: AuthorMariaGrace.com"