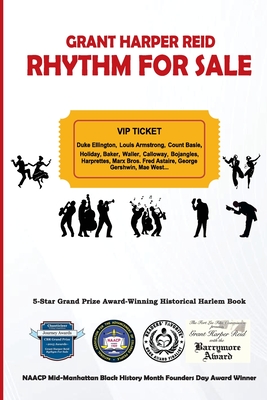 Rhythm for Sale (Paperback)
Dr. Grant Harper Reid, 9780615678283, 304pp.
Publication Date: June 18, 2013
* Individual store prices may vary.
Description
"Rhythm For Sale" the 5-Star Grand Prize Award book voted one of the Best Self-Published books 2015 and Bookawards.com Gold Award Winner. Get this NAACP Mid-Manhattan Black History Month Founders Day Award-winning Edition filled with 20 Extra Vintage Harlem Renaissance images. About Harlem Renaissance producer Leonard Harper's life. Reid has documented Harper's tale with decades of research and the careful chronological arrangement of the facts. Reid begins with Leonard Harper as a young pickaninny boy dancing in Medicine shows in the racist South. After leaving Alabama, Harper tours the country with his song and dance partner Osceola Blanks, and they wind up performing at the Empire Theater in London. As a married couple Harper and Blanks, arrive back in the States smack dab in the middle of the Harlem Renaissance. Pianist Duke Ellington moves in with them. Harper is hired to be the main in-house producer at Harlem's fabled Connie's Inn nightclub. "Rhythm For Sale" just gets started as Harper opens up his downtown Times Square Dance Studio. He teaches the Marx Brothers, Ruby Keller, Adele Astaire and Busby Berkeley's chorus line in the fine art of (Colored), dancing with "that little extra something in the butt department." He forms his famous chorus-line the Harperettes, who jiggle and joggle in skimpy outfits while setting dance floors on fire. Leonard Harper produces in at least eight nightclubs and theaters just in New York City alone. The Cotton Club, the Hollywood Inn, Al Capone's Grand Terrace Cafe, the Lafayette Theater, and the Apollo Theater all owe their status and particular place in nightclub and theater entertainment history to Harper and his fast variety revues. He rules the nightclub and Black Musical Comedy world on "The Great White Way" and uptown in Harlem. "Black And Blue" and "Ain't Misbehavin" all came from Harper's "Hot Chocolates." The book is chock full of celebrities and gangsters who come and go. Ethel Waters, Cab Calloway, Fats Waller, Chick Webb, Louis Armstrong, Billie Holiday, Count Basie, Lena Horne, Dutch Schultz and Lucky Luciano are all integral players in Harper's show business world. Grandson Grant does not disappoint. These real-life characters come to life. No cardboard cutout characters are in this book. It's not all the razzle and dazzle of the bright stage lights in this tome. "Rhythm For Sale" finely peals away beyond the surface to reveal what lurks underneath the facade. Like a master chef, the author delves deep into the ingredients of Harper's complicated personal life. We examine his relationships with his possessive mother, jealous brother, crippled and bitter wife, sexy girlfriends and his loving daughter. The book ends with Harper's 1943 downfall. When Harper's variety revue form of Colored Musical Comedy is, deemed out of date with his audience, his time on earth expires. His sad downfall is inevitable as the master Stager is trapped and held captive of his past success. The racial pigeonhole that forced him into working for only small-time Harlem nightspots caused his death. A Harlem street was named "Leonard Harper Way" because of the deep historical contents in this book. "Clearly Leonard Harper was just about the most important contributor to the entertainment mystique that enveloped Harlem in the 1920's and 1930's. He invented the nightclub floorshow, Harlem style that everyone, uptown and down, then emulated. Without him, I doubt we would have Broadway musicals as we know them today." Barry Singer author of Black And Blue. "Harper's extraordinary accomplishments as an artist and innovator spanned the worlds of vaudeville, cabaret, burlesque, and Broadway musical comedy. Harper is also remembered as a pioneer who integrated the all-white Shubert touring circuit and directed Hot Chocolates' the first-ever Broadway production with an all-black creative team." President of Lincoln Center. Enjoy the read.
About the Author
Dr. Grant Harper Reid attended and graduated from Bard College with a Degree in the Arts where he studied editing at Beatle John Lennon's apartment. Grant then went on to study at the National Academy of Television Arts and Sciences and Ossie Davis' New Cinema Artists Institute. Three significant events primed Grant for his biography about his entertainment grandfather. A year after he was born an Apollo Theater manager requested baby Grant's services to be the News Years Baby with entertainer Jackie Wilson dancing him out on stage in his arms. In 1969 at 16 years old Grant met, photographed and hung out with Jimi Hendrix as he played a benefit in Harlem. In 1978 at age 25 Grant cast Michael Jackson in a Motown/Commodores documentary filmed in Madison Sq. Garden. Grant Reid worked in various thankless capacities in the entertainment industry throughout the decades. Grant labored primarily on major motion pictures, music videos, television production's and commercials securing and supporting locations. In the record industry, Reid worked in the promotional departments supporting a variety of major musical artists. One fateful day Grant accidentally stumbled upon a Harlem Renaissance book in a local Harlem library. The book mentioned his grandfather theatrical producer Leonard Harper. This event changed Reid's life forever as he dropped everything to learn as much about one of the most prolific producer/director's who ever lived during Harlem's famous Jazz Age. Reid now shares all that he has learned in this Grand Prize 5-Star Award Winning biography.