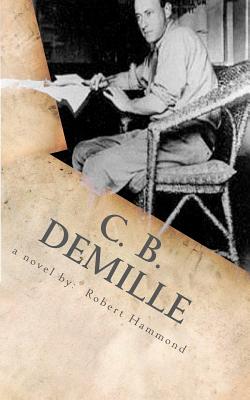 C. B. DeMille (Paperback)
The Man Who Invented Hollywood
New Way Press, 9780615680552, 162pp.
Publication Date: August 4, 2012
* Individual store prices may vary.
Description
Citizen Kane meets Sunset Boulevard as a creative visionary battles a tight-fisted money man and his own vices to make Biblical epics and usher in Hollywood's Golden Age. Complications arise when his relationship with his two mistresses threatens to destroy his family. C.B. DeMille is the story of Cecil B. DeMille, the famous Hollywood director/producer of such hits as Cleopatra, The Ten Commandments, The Greatest Show On Earth, and many others. In this novelization of the beginnings of director Cecil B. DeMille's film career starting as a failed stage actor in the early 1900?s, Hammond reveals the director's early family life in New York City, his relationship with his wife and young daughter and exposes his evident character flaws. In "C. B. DeMille: The Man Who Invented Hollywood," the reader will discover the origins of the then burgeoning film industry and what led DeMille to leave New York for a little-known southern California town called Hollywoodland, to follow his new calling as a film director. "Once out west, DeMille, along with Adolph Zukor and Jesse L. Lasky, form 'Famous Players-Lasky Corporation' later changed to 'Paramount Famous Lasky Corporation' the forerunner to Paramount Pictures Studios. Hammond's lightning-paced novel highlights the great filmmaker's Hollywood odyssey of excess, infidelity, redemption and reverence, leading to the most celebrated figure in entertainment history and the "Greatest Showman on Earth.
About the Author
Robert Hammond is an award-winning screenwriter, author, and producer with an MFA in Creative Writing. Hammond's previous books include Ready When You Are: Cecil B. DeMille's Ten Commandments for Success and Identity Theft. He has appeared on over 300 radio and television shows and is a highly sought-after speaker on personal achievement, filmmaking and Hollywood history.