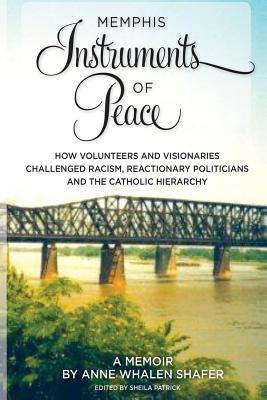 Memphis Instruments of Peace (Paperback)
How Volunteers and Visionaries Challenged Racism, Reactionary Politicians and the Catholic Hierarchy
Anne Shafer, 9780615688459, 262pp.
Publication Date: February 21, 2013
* Individual store prices may vary.
Description
A memoir of a devout Catholic woman who, in response to her mystical experiences and the demands of conscience, came into conflict with her church and the conservative political leaders of Memphis over the issues of racism, sexism and the relationship of church and state. The book deals with a whole community of progressive activists in Memphis and elsewhere whose support for the United Nations, Civil Rights, cultural diversity, and individual conscience called on their deepest reserves of courage and integrity. "A woman's powerful account of her determination to bring justice to the world." "Her bravery and forward-thinking, as well as her connection to God, motivated her to improve the lives of those around her. Written with candor and wit, this memoir is both politically informative and spiritually uplifting." "Her inspiring story serves as a powerful reminder that one person can truly make a difference." - Kirkus Review, May, 2013.
About the Author
Anne Whalen Shafer was born in Memphis, TN, to a devout Catholic family, and brought up to take her faith and her conscience to heart. After her marriage to World War II veteran Bob Shafer, a Presbyterian, she became active in Memphis politics following the death of long time political leader E. H. Crump, and the struggle to challenge the political machine that survived him. Mrs. Shafer was elected as a delegate from Shelby County, to the State of Tennessee, Limited Constitutional Convention in 1964. She was also appointed to be Chairman of the Memphis City Beautiful Commission, a position Mrs. Shafer held from 1964 through 1966. After these positions, she went on to become a leader in the United Nations Association, the League of Women Voters, Church Women United, the Panel of American Women, the Catholic Human Relations Council, and many other organizations. She has been the recipient of numerous awards and honors, including being selected by the Democratic Party as one of the Women Doers, outstanding leaders on the national level. Note: Anne W. Shafer passed away October 2, 2013, in Memphis, TN. at the age of 90.