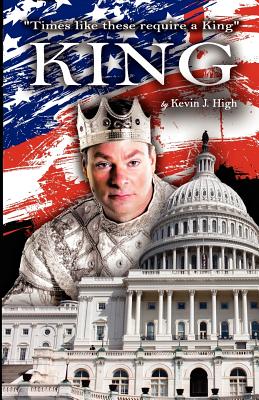 King: Times Like These Require a King (Paperback)
Times Like These Require a King
Cytation Press, 9780615698113, 256pp.
Publication Date: September 20, 2012
About the Author
His grandfather owned a grocery store and his father owned a restaurant and a printing company, which means that Kevin High was born into business (he kept their floors nice and clean for many years). This knowledge of small business made Kevin an unusually young talent in the field. By the age of 18, Kevin already owned his own court-reporting business and was a notary public in Maryland, DC and Virginia. As a college student, at only 20 years-old, Kevin started a successful advertising business which held contracts with both Kentucky Fried Chicken and the Marines. At 22, Kevin left to become a stock broker. It wasn't long before he was a top producer with Shearson Lehman Hutton (which would later become Smith Barney). From that point forward, Kevin's star in the business world just got brighter. He would go on to carve out a twenty year career of acquiring and selling companies that stands as a monument to his ability to fix businesses. In the wake of 9/11, having personally lost much to the attacks, it was decided that Kevin and his family would take an extended sailing trip, which they did for almost three years. But even at sea, Kevin couldn't stop his mind from returning to his passion of business. Near the end of 2002 he had discovered a company called Solomon Technology. Kevin agreed to help the company raise capital and and to take it public. From the comfort of his boat, Kevin managed to raise the company several million dollars. After three years, Kevin reentered the business world rejuvenated. In his time at sea, Kevin fell in love with the city of Charleston. It was there that he founded Sequence Investment Partners. It wasn't long before the company entered into an agreement with Webster Rodgers, becoming WRSequence. After selling his equity share in the company, Kevin now lives a much quieter life managing his investments and working as a hightly-sought-after consultant. But his new life has left him salivating at the chance to fix one more business - the ultimate business. After a lifetime developing a savant-like skill in his craft, Kevin is ready for the challenge this financial giant presents. That one final business is, of course, the United States government. Which is why, ever since 2010, Kevin J. High has been writing this book. When not running a business or contemplating politics, Kevin is an avid sailor and photographer. He has a son and daughter who both make him very proud.
Advertisement