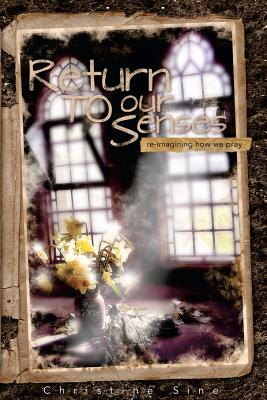 Return To Our Senses
Reimagining How We Pray
Paperback

* Individual store prices may vary.
Description
"What makes you feel closer to God?" When Christine Sine asked people this question, the answers she received surprised her. It wasn't pipe organs and pulpits that most often opened people to God's presence, but simple things in daily life. In Return to Our Senses, Christine Sine shows you how simple experiences - breathing, drinking a glass of water, walking amongst trees, shooting a photo, picking up a stone - can become "thin places" and pregnant moments in your daily life - helping you awaken to God's presence, savor God's nearness, and translate your experience of God into prayerful, compassionate action. It was written for those who hunger for a deeper, more life encompassing relationship with God. Return to Our Senses explores approaches to prayer that connect our spiritual practices to everyday life, awakening all our senses to a deeper relationship to our loving God. Some of the practices have existed for centuries and only require us to tap into the rich knowledge and practices of ancient followers of Christ to access them. Others will be newly created, springing fresh from our imaginations and creativity, specially designed for intimacy with God in our present culture. This is a great book for group study. A free study guide is available through the Mustard Seed Associates website http: //msaimagine.org.
MSA Publications, 9780615709352, 168pp.
Publication Date: October 22, 2012
About the Author
Christine Sine is Executive Director of Mustard Seed Associates http: //msaimagine.org a small organization founded by her and her husband Tom Sine to assist churches and Christian organizations to engage the challenges of the 21st Century. She speaks and writes about how to integrate spiritual rhythms into everyday life as well as on spirituality and gardening. If you visit Tom and Christine in Seattle you might find her out in her garden harvesting luscious tomatoes. Or you might find her inside knitting a sweater or working on a new book on creating a liturgy of life. Christine and Tom and their golden retriever Bonnie love practicing hospitality and cooking food from all over the world. They particularly enjoy teaching people how to party the kingdom 24/7. In a former life Christine trained as a physician in Australia and developed and directed the healthcare ministry for Mercy Ships. She has worked in Africa, Asia, Central America, the Caribbean and the South Pacific. She is the author of several other books, To Garden with God (MSA 2010) Light for the Journey (MSA 2010) GodSpace: Time for Peace in the Rhythms of Life (Barclay Press 2006), Travel Well (World Vision Resources 2005) and Tales of a Seasick Doctor (Zondervan 1996). Christine and Tom also co-authored Living on Purpose: Finding God's Best for Your Life. (Baker Books 2002). She blogs at http: //godspace.wordpress.com