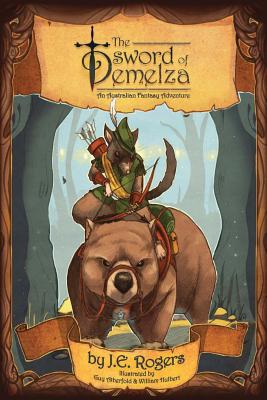 The Sword of Demelza (Paperback)
Acadia Publishing Group, LLC, 9780615709949, 338pp.
Publication Date: April 5, 2013
About the Author
PUBLISHERS WEEKLY: In this entertaining debut, Rogers uses her love of Australian wildlife to deliver a rousing Redwallesque fantasy, in which a coalition of creatures embarks on an epic quest. Erik and Emma, kowarie siblings, must gather the ingredients to brew a potion to save their mother, who is dying from the bite of a brown snake. They're sidetracked when they meet Devon, a red fox looking to avenge the deaths of the bilby monks who raised him from childhood; this brings them into alliance with a rebel army amassed against the tyrannical king Cynric and his vicious thylacine enforcer, Flitch. While the elements of the story are all familiar, Rogers gives it a twist with her use of exotic and often endangered species, crafting an adventure that fits right in the anthropomorphic animal fantasy mold. The story is accompanied by a number of finely detailed pencil illustrations by Atherfold and Hulbert, which help bring the odd creatures to life and allow readers to properly envision sword-wielding marsupials and wombat-riding warriors. Ages 6-12. She lives in Connecticut with her family, which includes a standard poodle named Phoebe, and a cantankerous cat named Libby.
Advertisement