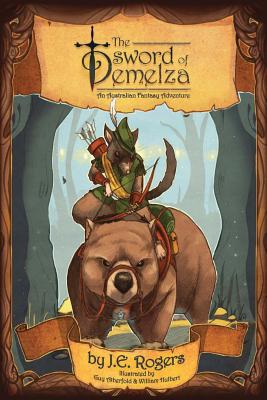 The Sword of Demelza
Paperback

* Individual store prices may vary.
Description
WINNER Moonbeam Children's Book Awards. Gold Medal
WINNER Reader's Favorite International Book Awards. Bronze Medal
WINNER Benjamin Franklin Digital Awards. Gold Honoree
WINNER Book of the Year Finalist ForeWord Reviews - 2013, Juvenile Fiction
Told in crisp, page-turning prose, readers of all ages will find this to be an engaging novel built around a framework of moral guidance.
WINNER Honorable Mention - Writer's Digest 2013 eBook Awards
"Beyond excellent, from the terrific illustrations on the cover and throughout the book, so well-placed by the author to convey the character's depth in plot."
Judge, Writer's Digest eBook Awards 2013
Cynric, King of Demelza, is haunted by his past. In an effort to escape it, he wields a powerful sword, commanding his dragon lizards and a malevolent thylacine, to wreak havoc throughout the realm. Villages are burning and innocent creatures are dying.
Erik and Emma, two young marsupials, and Devon, an orphaned red fox, are on their own personal quests; two to save a life, one to destroy another. When their paths cross, these natural enemies forge an unusual friendship. Soon they hear of the devastation caused by the evil king and they realize that their personal objectives must be put aside. Even though that decision will affect their own lives, and the lives of the ones they love, they are determined to help their fellow creatures. They put themselves at risk by joining a motley crew of animals, whose main objective is to end the reign of King Cynric.
A final battle will take place in the shadow of Fortress Demelza as the king's forces clash with this rag tag band of creatures from the countryside. The fate of Sunderland and its inhabitants is at stake.
From the Author: The Sword of Demelza is a middle grade fantasy where endangered animal heroes roam the pages, and the Australian landscape comes alive A glossary at the end of the book provides information about the unusual flora and fauna found within the story, and only on the continent of Australia. Wonderful Illustrations throughout the book will help bring the creatures to life. A sneak peek of The Gift of Sunderland, the second book in the Australian Fantasy Adventures, is included.
Filled with profound lessons of loyalty, friendship, tolerance and dedication to a cause, J.E. Rogers delivers a fantasy filled with excitement and unforgettable characters. It is truly an exciting journey, populated by fascinating beings. A must read for every child, young and old
Jan Kardys, Chairman, Founder at Unicorn Writers' Conference, Inc.
Acadia Publishing Group, LLC, 9780615709949, 338pp.
Publication Date: April 5, 2013
About the Author
PUBLISHERS WEEKLY: In this entertaining debut, Rogers uses her love of Australian wildlife to deliver a rousing Redwallesque fantasy, in which a coalition of creatures embarks on an epic quest. Erik and Emma, kowarie siblings, must gather the ingredients to brew a potion to save their mother, who is dying from the bite of a brown snake. They're sidetracked when they meet Devon, a red fox looking to avenge the deaths of the bilby monks who raised him from childhood; this brings them into alliance with a rebel army amassed against the tyrannical king Cynric and his vicious thylacine enforcer, Flitch. While the elements of the story are all familiar, Rogers gives it a twist with her use of exotic and often endangered species, crafting an adventure that fits right in the anthropomorphic animal fantasy mold. The story is accompanied by a number of finely detailed pencil illustrations by Atherfold and Hulbert, which help bring the odd creatures to life and allow readers to properly envision sword-wielding marsupials and wombat-riding warriors. Ages 6-12. She lives in Connecticut with her family, which includes a standard poodle named Phoebe, and a cantankerous cat named Libby.