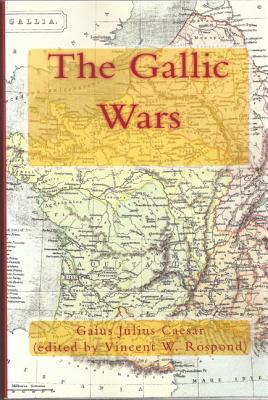 The Gallic Wars (Paperback)
Winged Hussar Publishing, 9780615723280, 344pp.
Publication Date: November 7, 2012
Other Editions of This Title:
Hardcover (2/6/2013)
* Individual store prices may vary.
Description
The most powerful army of its time is faced with insurgent attacks and revolts on the borders of their lands. A celebrated general proceeds to crush it and in the process makes a name for himself as a military commander. This is the history of the Gallic Wars written by the Roman commander, Gaius Julius Caesar, in which he explains how and why he committed Rome to this battle. This latest edition of an ancient classic in edited and annotated to explain the politics and armies of all combatants. This volume includes seven known books of Caesar's conquest of Gaul, plus the eight book attributed to Aulus Hirtius, a Roman General who supposedly lived at the same time as Caesar. Interspersed are numerous maps detailing the area described in each chapter and antique illustrations of incidents described or equipment used. As an added bonus there are seven appendices that provide additional information about topics and people described in the narrative. These include: The Roman Army, Roman Politics, The Gauls, Germans and Britains, a listing of all the tribes mentioned in the text and their location, Short biographies of the people mentioned, Cities and Geography and a short section on Terms, titles and Miscellanea.
About the Author
Gaius Julius Caesar (July 100 BC - 15 March 44 BC) was a Roman general and statesman and a distinguished writer of Latin prose. He played a critical role in the gradual transformation of the Roman Republic into the Roman Empire. Much of Caesar's life is known from his own accounts of his military campaigns, and from other contemporary sources, mainly the letters and speeches of Cicero and the historical writings of Sallust. The later biographies of Caesar by Suetonius and Plutarch are also major sources. His Commentaries on the Gallic Wars is one of two of his writings that have come down to us in modern times. Vincent W. Rospond received his Master's in Eastern European History from the University of Illinois as well as studying at the Jagiellonian University in Krakow and the MBA program at Seton Hall University. He has spent almost 20 years as an executive in the publishing and gaming industry. He started Winged Hussar Publishing, LLC (WHP) as a venture for historians to publish books and articles on lesser known periods of history and give readers access to translated historical documents. His first book for WHP is a new edition of Caesar's Commentaries of the Gallic Wars. In addition to his work at WHP, he is editor of the Journal of America's Military Past, a peered reviewed journal focusing on the people, places and things related to America's military. He currently lives at the sunny New Jersey shore with his wife, kids and dog.
or
Not Currently Available for Direct Purchase