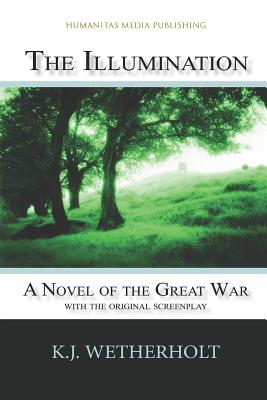 The Illumination
A Novel of the Great War (Humanitas Media Edition)
Paperback

* Individual store prices may vary.
Description
Humanitas Media Publishing - Memorial Day 2019 Edition;
Synopsis: On the Western Front in 1918, during what was to have been the "war to end all wars"; three people meet at an Allied camp near Amiens. One English, one American, and one Irish, they forge a friendship which transcends nationality, surviving the harrowing nature of a war which would devastate an entire generation. What happens during those weeks and in its aftermath will shape not only the world, but also the lives of those who experienced it, demonstrating the truth inherent in all war, and that as soldiers of every age have experienced, war is not only fought without but within, and the macrocosm of a world in conflict also reflects an intrinsic war where each man and woman must find his and her own sense of peace.
2019 Edition includes the original novel and Wetherholt's original screenplay.
Advance Praise:
The Illumination combines love, war, and man's search for self in a story that is both shocking and poetic. Her in-depth knowledge of the tactics, operations, and strategy of WWI trench warfare would alone make this book an important read. But it is her description of how the horrors of sustained combat impacts those who have experienced it that leaves one haunted. It is against this historically and emotionally accurate background that this novel truly takes flight, as Wetherholt masterfully weaves a tale of friendship and love forged in the hellish, blood-soaked trenches of the front. It is here, under the constant threat of violent death, that one is forced confront their humanity and fight to recognize their own soul. With enough turns to keep a seasoned reader off-balance, Wetherholt delivers a powerful story that will remain with you long after you have finished the last page.
-- Roger D. Carstens, Lieutenant Colonel, U.S. Army Special Forces (Retired)
The Illumination is a stunning book, and a rare perspective on a conflict that has now faded from living memory. While many novels have fixated on the coming of age story of young men at war, the author focused on a more difficult subject: the conclusion and aftermath of a global conflict. The characters are real and desperate to find something to hold on to in a world gone insane. This novel will speak to anyone who has ever shouted at a destructive world and found that God didn't even care to reply. The Illumination takes on greater urgency today, not because of its historical aspect but rather its predictive qualities as the Western world again seems poised to repeat the same mistakes we made 100 years ago.
-- Jack Murphy, Army Ranger and Green Beret (Retired), NYTimes Bestselling author and author of Murphy's Law, Managing Editor of NEWSREP
Humanitas Media Publishing, 9780615730035, 378pp.
Publication Date: November 19, 2012
About the Author
K.J. Wetherholt, Principal of the IIPFoundation and Executive Editor of the MIPJ, continues to research the reality and effects of modern war, having returned to International Relations and Humanitarian Affairs following the death of her father, a veteran who first told her stories about his own paternal grandfather, an officer who served on the Western Front during WWI. This book was written in memory of those who experienced WWI, among other wars, past and present.