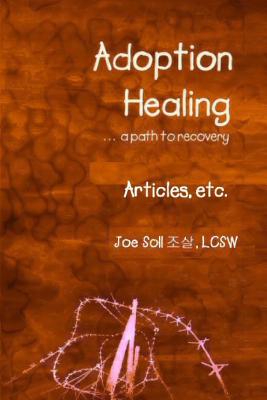 Adoption Healing... a Path to Recovery Articles, Etc. (Paperback)
Joe Soll, 9780615756080, 174pp.
Publication Date: April 25, 2013
Other Editions of This Title:
Paperback (4/4/2012)
* Individual store prices may vary.
Description
This addition to the Adoption Healing series is a compilation of all the articles that I have been asked to write in the last year, These articles address specific issues faced by adoptees and mothers of adoption loss. These articles suggest additional exercises and methods of healing the wounds while working towards better relationships, peace and contentment. - "Joe Soll has probably worked with adoptees and first parents more than anyone else on the planet. His approach has always involved empathy, intuition and introspection, without which dialogue runs dry. Few know the depth of the adoptee and first parent experience as well as Joe Soll, especially the dark side, where loss and loneliness reside. Combining his experience, or perhaps we should say wisdom, with current therapeutic approaches, Joe creates an environment where growth can occur. Read his work, try it out, see how it works for you." - Robert Andersen, M.D., psychiatrist, author of Second Choice: Growing Up Adopted and A Bridge Less Travelled: Twice Visited.
About the Author
Joe Soll LCSW, the author of Adoption Healing... a path to recovery (one for adoptees and one for mothers who lost children to adoption) and co-author of Evil Exchange and Fatal Flight is a diplomate psychotherapist and lecturer internationally recognized as an expert in adoption related issues and a former adjunct professor of social work at Fordham University Graduate School. He is director and co-founder of Adoption Crossroads in New York City, a non-profit organization that helps those separated by adoption. Adoption Crossroads is dedicated to educating the public about adoption issues, preserving families and reforming current adoption practices. The director and founder of the Adoption Counseling Center in New York City, Mr. Soll was a member of Matilda Cuomo's 1993 Advisory Council on Adoption; conference chair and board member of the American Adoption Congress, and a former trustee of the International Soundex Reunion Registry. He's a fellow of the American Orthopsychiatric Association, the American Association of Grief Counselors, and a member of the Council on Social Work Education, the National Association of Social Workers and the National Academy of Television Arts and Sciences . Since 1989, Mr. Soll has organized and coordinated ten international mental health conferences on adoption attended by mental health professionals. He has been an expert witness in court about adoption related issues and has lectured widely at adoption agencies, social work schools, mental health facilities and mental health conferences in the U.S. and Canada. Mr. Soll has appeared on radio and television more than 300 times, given more than 130 lectures on adoption related issues and has been featured or quoted in more than three dozen newspapers, books and magazines. In 1994 he was portrayed as a therapist in the a NBC made-for-TV movie about adoption. He recently played himself in the HBO original movie Reno Finds Her Mom. He was featured in the 2001 Telly Award winning Global Japan documentary, "Adoption Therapist: Joe Soll" and in the MediaStorm 2011 documentary "Broken Lines" as well as profiled in the International Museum of Women. His own story as an adoptee has been presented more than thirty times on Unsolved Mysteries. He has walked the 250 miles from New York City to Washington, D.C. six times to create public awareness of the need for adoption reform. He resides in Congers, NY and maintains an office in New York City.