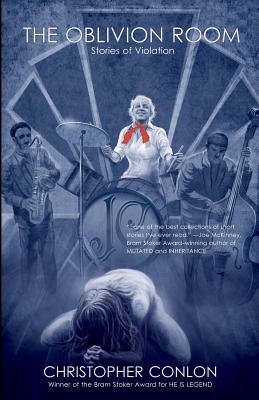 The Oblivion Room
Stories of Violation
Paperback

* Individual store prices may vary.
Other Editions of This Title:
Paperback (1/21/2019)
Description
A woman finds herself alone in a pitch-black room without doors or windows, completely cut off from human contact...A man wakes one morning certain that today is the day he must commit an unspeakable atrocity...A gifted jazz musician runs from her past-but even she has no idea how lethal that past truly is.
THE OBLIVION ROOM: STORIES OF VIOLATION collects six of Christopher Conlon's most nightmarish works, tales in which the horrific can come from anywhere-or from everywhere at once.
"THE OBLIVION ROOM is, simply put, one of the best collections of short stories I've ever read. Remember that feeling you got the first time you read Ray Bradbury, or Stephen King, or Shirley Jackson, how magical the prose felt? Well, get ready to experience that magic again, because Christopher Conlon has it in spades. The stories presented here are absolutely fantastic. I devoured them all, and I'm willing to bet you will too. Along with Laird Barron and John Langan, Christopher Conlon is carrying the torch for literary horror in the 21st century. Pay attention, because Conlon is one of our best, hands down." -Bram Stoker Award Winner Joe McKinney, author of MUTATED and INHERITANCE
"Connoisseurs of cutting-edge horror will not want to miss it." -Carl Hays, Booklist
"Conlon is a consummate literary artist." -George Clayton Johnson, author of TWILIGHT ZONE SCRIPTS AND STORIES
"His stories are uncompromising, conveying a sense of lost time and unrealized dreams...He's a modern master." -William F. Nolan, author of LOGAN'S RUN
"A brilliant writer." -Gary A. Braunbeck, author of IN SILENT GRAVES.
Evil Jester Press, 9780615758183, 244pp.
Publication Date: June 19, 2013
or
Not Currently Available for Direct Purchase