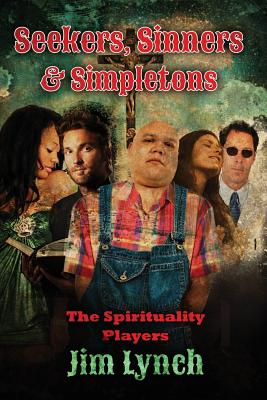 Seekers, Sinners & Simpletons (Paperback)
The Spirituality Players
Ere Publications, 9780615758220, 426pp.
Publication Date: April 2, 2013
* Individual store prices may vary.
Description
Patch Munson is feeling queasy. He has killed Aaron Fein, the owner-operator of the Fein Center for Women, in Tampa, Florida. He confessed his sin to a Catholic priest, only to find that the priest is a sinner also. Father Tim Hanlon is leaving the priesthood after learning that he has fathered a child with a black supermodel, Carol Mays. Perplexed, paranoid and petrified, Munson kidnaps Mays and stows her away a bomb shelter on his family's Alabama farm, while he tries to solve his mounting problems. While authorities in Florida and Alabama tighten down the focus of their investigation to Munson's home city of Mobile, Alabama, Munson attempts to work out a resolution with his prisoner. As the police and FBI come closer and closer to the Munson family farm, the Alabama coast is battered by a Category 5 Hurricane, colloquially known as Hurricane Jesus. Munson, Mays, Hanlon and two Florida State police officers all end up in the bomb shelter, during the pass over of Hurricane Jesus. Emotions run high, as the ensemble of Seekers, Sinners and Simpletons are threatened by terrifying wind above them and the rising flood waters that seep into the bomb shelter. Throughout the story the characters are faced with extraordinary choices in their own spiritual explorations for meaning in their lives. Some do it with humor and some do it with angst, but they are all forced to come to grips with their own humanity along the way.
About the Author
"Seekers, Sinners & Simpletons" is the third novel written by Jim Lynch. Mr. Lynch's previous novels include: "The 2020 Players: A Futuristic Account of the 2020 Presidential Election Year" (published in 2011) and "The Rhapsody Players: The Sensuous Pursuit of Health, Happiness and Longevity" (published in August 2010.) Prior to his writing career Jim was engaged as a visionary business executive who spent more than 35 years leading other professionals in both entrepreneurial pursuits as well as big business endeavors. He started his career with eight years experience as an investigator for James J. Lynch Investigation and Security Services. He then spent the core of his business career (22 years) as an executive with AT&T. After retiring as an officer of AT&T, Jim returned to his entrepreneurial roots and founded a thriving sales consulting business, and co-founded a successful IT outsourcing business. Then he was one of four entrepreneurs who founded Rhapsody Holdings in 2007. In addition to his career as a business executive Mr. Lynch also gives back to the community through his interaction with several nonprofit causes. He is an active member of the Board of Trustees for the Hunterdon Healthcare System as well as the Hunterdon Medical Center. He is also a member of the Board of Trustees for SOAR, a Washington DC based charity that assists aging members of the clergy. Jim is currently working on his fourth novel: "The Wasted Generation" (due for completion in the Spring of 2014.) Jim and his wife Debbie reside in Hunterdon County in western New Jersey, where they have raised eight children together."