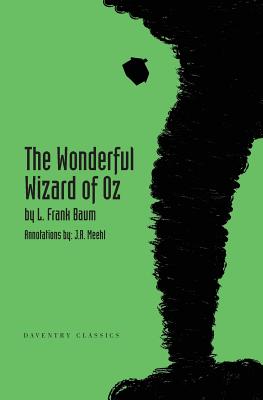 The Wonderful Wizard of Oz
Daventry Classics Annotated Edition
Paperback

* Individual store prices may vary.
Other Editions of This Title:
Paperback (4/9/2015)
Paperback (5/29/2013)
Paperback (12/17/2013)
Paperback (6/18/2010)
Paperback (11/29/2015)
Paperback (5/21/2012)
Paperback (12/19/2011)
Paperback (4/9/2013)
Paperback (2/26/2012)
Paperback (2/28/2013)
Paperback (10/5/2012)
Paperback (6/13/2017)
Paperback (12/5/2014)
Paperback (6/15/2018)
Paperback (9/1/2004)
Paperback (10/22/2018)
Paperback (11/11/2012)
Paperback (10/10/2014)
Paperback (11/16/2014)
Description
Over a century after its initial publication, The Wonderful Wizard of Oz is still captivating the hearts of countless readers. Come adventure with Dorothy and her three friends: the Scarecrow, the Tin Woodman, and the Cowardly Lion, as they follow the Yellow Brick Road to the Emerald City for an audience with the Great Oz, the mightiest Wizard in the land, and the only one that can return Dorothy to her home in Kansas. This edition, fully annotated, faithfully reproduces L. Frank Baum's original novel straight from the source, and free from modern edits. You'll be able to immerse yourself in the story just as Baum wrote it over one hundred years ago, while at the same time you'll enjoy interesting facts and footnotes that expand this great story and provide a basis for Baum's magical world.
Daventry Press, 9780615768380, 182pp.
Publication Date: February 25, 2013
About the Author
L. Frank Baum (1856-1919) was an American author of children's books, best known for writing "The""Wonderful Wizard of Oz." He wrote 13 novel sequels, nine other fantasy novels, and a host of other works, totaling 55 novels, 83 short stories, more than 200 poems, and an unknown number of scripts.