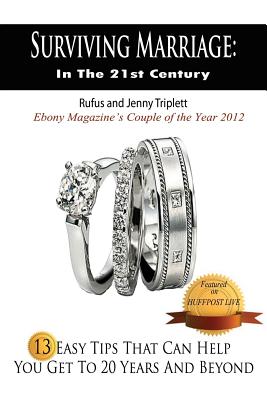 Surviving Marriage in the 21st Century (Paperback)
13 Easy Tips That Can Help You Get to 20 Years and Beyond
Dawah International, LLC Publishing, 9780615769387, 74pp.
Publication Date: February 12, 2013
* Individual store prices may vary.
Description
Surviving Marriage Tips is more than a book of general rhetoric. It is a book of relatable experiences written from the viewpoint of a man and woman, in their own humorous way, who committed to the institution of marriage at the young age of 21. From tip number one to tip number thirteen, you will get a true understanding of how you and your significant other can stay bonded in matrimony for decades and maybe even into the golden years. As troubled times arise in any marriage, these co-authors offer a guideline on how to apply a little duct tape and keep the wheels of happiness moving.
About the Author
Rufus and Jenny are one of the very few professional husband and wife teams who do just about everything together, while surviving over twenty five years of marriage being attached at the hip. Rufus Triplett, Jr., originally from Flint, Michigan and a1986 graduate of Flint Northern High School, is a talented singer, songwriter and producer. He co-wrote, produced and toured for the platinum group Ready for the World in the late 80's. He chose to broaden his horizons in the Marine Corps where he went to school for Culinary Arts. After relocating to Atlanta in the early 90's he found a love for computers and has become a technology geek. Not only can he build them from scratch but he has become the "go to" guy for all of his family members. Jenny Triplett, originally from Saginaw, Michigan and a 1986 graduate of Arthur Hill High School, always aspired for a career in media. Starting out as an intern at a 107 FM under DJ Dave Rosas, she established a relationship with several entertainers and Ready for the World where she went on to head their marketing outreach team. Jenny also chose to explore the military where she gained a wealth of knowledge and experience during her time in the United States Navy. After marrying Rufus and relocating to Atlanta she headed her own entertainment company for over 14 years which included concert promotions and the children's group Kidsworld. Their flourishing company was halted during the time Jenny dealt with legal issue and a brief period of incarceration. The Triplett's do not consider that ta dark period in their lives because their marriage grew stronger and they bonded to the point where their relationship became unshakeable. They now own Dawah International, LLC, a multimedia company, which publishes Prisonworld Magazine and are co-hosts of their own weekly radio show, the Prisonworld Radio Hour which airs on The Prisonworld Radio Network. They also have a successful blog and are requested speakers for corporate functions, wellness retreats, webinars/teleseminars, correctional facilities, non-profit organizations, schools, colleges and universities and print magazines. Their appearances on Family Court with Judge Penny and Dr. Phil garnered rave reviews as to their parenting philosophies. Jenny's appearance on The Mike & Juliet Morning show was phenomenal as she gave The Real Housewives of Atlanta a little wisdom. Their constant drive and dedication to thwart mass incarceration was recognized by President Obama.