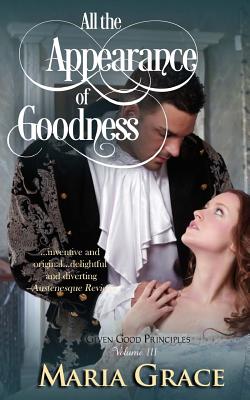 All the Appearance of Goodness (Paperback)
Given Good Principles Vol 3
White Soup Press, 9780615788708, 342pp.
Publication Date: April 6, 2013
* Individual store prices may vary.
Description
What is a young woman to do? One handsome young man has all the goodness, while the other the appearance of it. How is she to separate the gentleman from the cad? When Darcy joins his friend, Bingley on a trip to Meryton, the last thing on his mind is finding a wife. Meeting Elizabeth Bennet changes all that, but a rival for his affections appears from a most unlikely quarter. He must overcome his naturally reticent disposition if he is to have a chance of winning her favor. Elizabeth's thoughts turn to love and marriage after her sister Mary's engagement. In a few short weeks, she goes from knowing no eligible young men, to being courted by two. Both are handsome gentleman, but one conceals secrets and the other conceals his regard. Will she determine which is which before she commits to the wrong one?
About the Author
Though Maria Grace has been writing fiction since she was ten years old, those early efforts happily reside in a file drawer and are unlikely to see the light of day again, for which many are grateful. She has one husband, two graduate degrees and two black belts, three sons, four undergraduate majors, five nieces, six cats, seven Regency-era fiction projects and notes for eight more writing projects in progress. To round out the list, she cooks for nine in order to accommodate the growing boys and usually makes ten meals at a time so she only cooks twice a month. She can be contacted at: email: author.MariaGrace@gmail.com. Facebook: facebook.com/AuthorMariaGrace On Amazon.com: amazon.com/author/mariagrace Visit her website Random Bits of Fascination (AuthorMariaGrace.com) On Twitter @WriteMariaGrace On Pinterest: http: //pinterest.com/mariagrace423/ English Historical Fiction Authors (EnglshHistoryAuthors.blogspot.com) Austen Authors (AustenAuthors.net)"