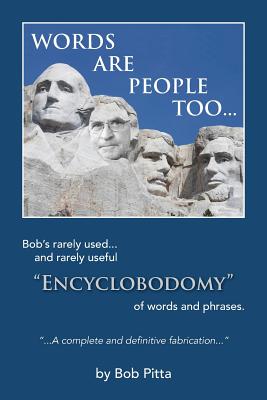 Words Are People Too... (Paperback)
Bob's Rarely Used... and Rarely Useful Encyclobodomy of Words and Phrases. a Definitive and Complete Fabrication by Bo
Waptoo, 9780615823898, 386pp.
Publication Date: October 8, 2013
* Individual store prices may vary.
Description
Words Are People Too... Bob's rarely used and rarely useful "Encyclobodomy" of words and phrases. ..".A complete and definitive fabrication..." Words Are People Too... is the perfect opportunity to shed the stress of the day by reading a two line, or a two page, pseudo document. The "documents" expose the when and the where that words were first used. The "First Used" context will shed a whole new light on language. It will amaze you. This compendium is somewhat like a reference book, insofar as it references stuff. Simply put, we learn how and why individual words or phrases were invented. Once invented, of course, the words ended up as a part of our language. They then became a reflection of the person or people who made them up. Those references, however, are derived with a humorous slant. Each word or phrase becomes a humorous essay. It will put a smile on your face (and teach you not to believe everything you read). Have you ever asked or been asked why clothes were invented and so named? The etymology of the word "Clothes" will surprise you. Shampoo has been with us since the first humanoid-ette got a look at her reflection from the pond she was drinking out of. How did the invention of Shampoo stick (so to speak)? How did Kansas and Arkansas receive such similar names? The Etymology will explain all...and it will even tell us how Al Gore got rhythm So take a little time, have some fun, and discover the amazing world of (pseudo) Etymologies. The book: Words Are People Too is available on-line at Kindle e books. It can be found in paperback form by typing in the word: "Encyclobodomy" during an Amazon search, or by searching: http: //www.amazon.com/book/Words Are People Too... Enjoy and remember that this work is ..". a complete and definitive fabrication." "Words Are People Too..." is the brain child of Bob Pitta, a resident of a bucolic small river town in the mid-western region of California. As the story: goes: Bob is a quiet, unassuming guy who has a degree in Philosophy, and who spends large portions of his time mulling things over. His passion for writing was sidetracked by the inventions of (in no particular order) the typewriter, Morris code, computers, computer keyboards, the cuneiforms of yore, the cell phone, and all of the other PDFs. However, none of these devices were devised to be divisive so he continued, and still continues to puzzle through thinking of things to share with others via whatever medium is available. He hopes that his passion to write does not lead others to lose their passion to read. Regarding "Words Are People Too..." his favorite saying is: "Nothing could be farther from the truth..." and via that gaping hole left in the Truth-O-Sphere, he hopes that readers will question, correct, and forge on to assert their own realities and share them with others.