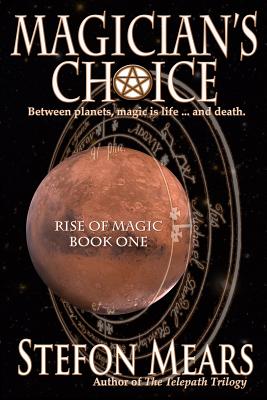 Magician's Choice (Paperback)
Thousand Faces Publishing, 9780615831886, 284pp.
Publication Date: June 7, 2013
* Individual store prices may vary.
Description
2025. Six decades after magic overthrew technology.
Courier-wizard Donal Cuthbert barely lands on the red dirt of Mars before people try to kill him. Rival corporations, willing to kill over his delivery. Donal escapes a spaceport explosion and plunges into a world of corporate espionage where even his beautiful liaison might be a deadly enemy.
Helioship captain John Jacobs teeters on the brink of financial ruin. Only an odd Mars-Earth business charter can save him. But murders on the ship drag Jacobs into the web of conspiracies alongside Donal.
And something worse than killers stalks that ship...
"Magician's Choice," a tale of adventure and espionage in high space, with dueling wizards and magic-driven ships. The first novel in the "Rise of Magic" series from Stefon Mears, author of "The Telepath Trilogy.
About the Author
Stefon Mears grew up in California, Middle-Earth, and Amber. He went to U.C. Berkeley intending to major in Genetics, but the call of storytelling compelled him to graduate with a B.A. in Religious Studies (double emphasis in Mythology and Ritual). He later earned an MFA in Creative Writing from the Northwest Institute of Literary Arts, with a Fiction major, and has published many short stories, poems and essays. Stefon has been an invited guest at a major Vodou ceremony in New Orleans, taught classes in the Brazilian martial art of Capoeira, spoken on a panel at a World Fantasy Conference, and engraved his own set of Norse runes. Stefon has worked as a professional audio engineer and played straight pool for money. He is an avid, lifelong fan of the San Francisco Giants. He lives in Portland, Oregon, with his wife and three cats, and when not writing he can often be found playing roleplaying games.