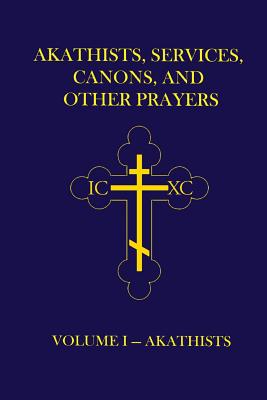 Akathists, Services, Canons, and Other Prayers - Volume I
Paperback

* Individual store prices may vary.
Description
An Akathist (from the Greek Ak thistos mnos, unseated hymn) is a devotional hymn to a saint, holy event, or one of the persons of the Holy Trinity, which is said in churches or by the faithful in private devotion. This volume contains thirty Akathists, including those to our Lord Jesus Christ, and to the Mother of God, as well as other Saints, including several Saints of the British Isles and North America.
John-That-Theologian.com, 9780615835235, 488pp.
Publication Date: September 4, 2013
About the Author
I'm an Orthodox Christian Pastoral and Moral Theologian, with a Licentiate in Pastoral Theology and a Doctorate of Ministry in Pastoral Counselling. While, if asked, I'd say my main areas of interest are in Bio-Ethics and Pastoral Care in Psychiatry, my mind has a tendency to wander so, in addition to my research and writing in my main areas of interest, I've recently released a daily prayer book, which is available as an e-book, as well as in paperback. I'm currently working on an encyclopaedia of pre-schism Saints of the Orthodox Roman Patriarchate. It will be released in two parts; part one entitled "A Synaxarion of Orthodox Saints of the British Isles" is expected to be released at the end of 2013; the second part will cover the rest of the Saints of the Orthodox Roman Patriarchate.