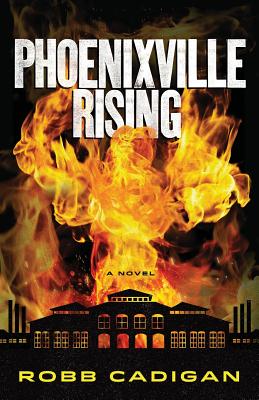 Phoenixville Rising
Paperback

* Individual store prices may vary.
Description
"PHOENIXVILLE RISING is a beautifully written love letter to the American industrial town. In a novel spanning centuries, and centering on three hard-luck kids, Sketch and Tara and the unforgettable Boo--clear-eyed and reckless and insanely-loyal Boo--Robb Cadigan gives us a timeless story of the enduring legacies of love and friendship. Noir and romantic and richly emotional, PHOENIXVILLE RISING is superb." - William Lashner, New York Times bestselling author of the Victor Carl series and THE BARKEEPIn PHOENIXVILLE RISING, a man returns to his hometown for the first time in decades and revisits the tragic October when he was a teen delinquent hanging out at the abandoned steel mill. Part coming-of-age novel, part crime story, part historical romance, the story moves back and forth in time between the beginning and end of the Phoenixville steel industry, from the Civil War years to the late twentieth century. A tale of rebirth and redemption in small-town America.NOTHING EVER HAPPENS HEREThis is what he used to tell himself. Back when he was just a punk kid, wasting time with petty crimes and the Furnace Boys down at the abandoned steel mill. A dead-end life, sure, but he had an escape plan. UNTIL ONE FATEFUL WEEKCHANGED EVERYTHING FOREVERNow, after thirty years, he's finally coming home ...to the phantoms of his own past and the hometown history he tried to leave behind.THE PAST IS ALWAYS PRESENTIN THE TOWN CALLED PHOENIXVILLE.
Rodgers Forge Press / USA, 9780615839776, 324pp.
Publication Date: September 24, 2013
About the Author
A former advertising copywriter and television executive, Robb Cadigan lives with his wife and two children in Chester County, Pennsylvania. Before becoming a full-time writer, Cadigan shucked oysters, drove a forklift, waited tables, sold clothes, edited TV Guide, and wrote advertisements for products as diverse as shoes, watches, and vacuum cleaners. For thirteen years, he was a marketing and television executive for QVC and helped develop the retailer into the world's most profitable TV channel. Cadigan holds a B.A. in English from Bucknell University. His well-received short story "Baptism" appeared in the popular Chester County Fiction anthology. Phoenixville Rising is his first novel.