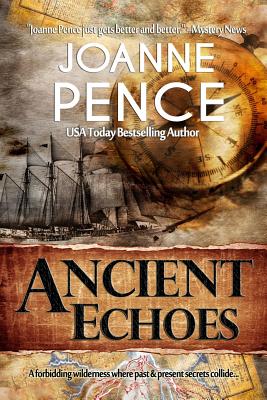 Ancient Echoes (Paperback)
Quail Hill Publishing, 9780615861425, 344pp.
Publication Date: August 13, 2013
* Individual store prices may vary.
Description
Past and present collide in this spellbinding tale by "USA Today" bestselling author Joanne Pence.
Over two hundred years ago, a covert expedition shadowing Lewis and Clark disappeared into the wilderness of Central Idaho. Now, seven anthropology students and their professor vanish in the same area. The key to finding them lies in an ancient secret, one involving alchemy, gold, and immortality...a secret that men throughout history have sought to unveil.
Michael Rempart is a brilliant archeologist whose colorful and controversial career has earned him admiring fans and implacable foes, but he is plagued by a troubling sense of the supernatural and a mysterious spiritual intuitiveness. Joining Rempart in this adventure are a CIA consultant on paranormal phenomena, a washed-up local sheriff, and a former scholar of Egyptology. All must overcome their personal demons as they attempt to save the students and, ultimately, the world.
"From the Journal of Francis Masterson, 1806--"
"All hope is gone. Evil is victorious."
"In the time I have remaining I will, herewith, impart a tale so filled with Dread and Terror that my heart overflows with immeasurable Sorrow to tell it. It began with the highest of Good Will and Promise and, on my part, great Excitement. I can only trust to Providence that one day this small account which I leave in a land of unimaginable desolation and Wildness, may be discovered, and that it will serve to warn others of the wickedness that may ensnare Good men."
"Ours was to be a Secret Expedition...
About the Author
Joanne Pence has written mysteries, historical fiction, romantic suspense, fantasy, and suspense with historical and supernatural elements. All her books are available as e-books and most are also in print. She hopes you'll enjoy her stories as they present a variety of times, places, and reading experiences from mysterious to thrilling, emotional to lightly humorous, as well as powerful tales of times long past. For more information, visit her at www.joannepence.com.
or
Not Currently Available for Direct Purchase