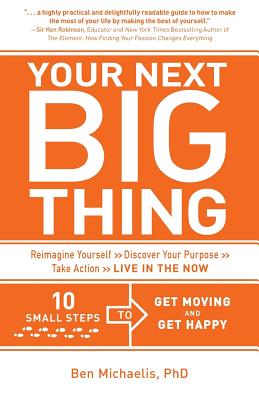 Your Next Big Thing
Ten Small Steps to Get Moving and Get Happy
Paperback

* Individual store prices may vary.
Description
Ten Steps to Moving Ahead with Purpose Have you ever woken up in the morning feeling unsure of where your day--or your life--is going? You wonder what else might be out there. You know you deserve more fulfillment from your life. You think to yourself: What's next? We've all felt that way at one point or another, but have you ever considered it to be your opportunity to create a life that will leave you more fulfilled? It's an exhilarating prospect to attain that life you desire. But you can't get there alone. Dr. Ben Michaelis's life-changing wisdom will give you the tools and confidence you need to take that chance--and live your life with purpose. Throughout this guide, he provides visionary yet practical strategies, quizzes, and exercises to teach you about your true self. He'll help you pinpoint exactly what you need to realize your purpose and progress toward your goals. Whether you're in need of business or personal guidance, this ten-step plan helps you look forward without fear--so you can achieve joy, passion, and the enriched life you never thought possible.
Wolf Street Press, 9780615862170, 242pp.
Publication Date: September 2, 2013
About the Author
Ben Michaelis, PhD, is a practicing clinical psychologist who writes about the importance of creativity and spirituality in personal and professional growth. Dr. Michaelis has been featured in the Huffington Post, The New York Times, PsychologyToday.com, Parents magazine, Entertainment Weekly, Glamour, and Redbook, and many other well-known publications and websites. He frequently appears as a guest speaker on mental health on television and radio. He lives in Brooklyn, NY. For more information visit drbenmichaelis.com.