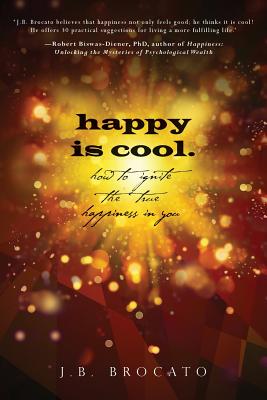 Happy Is Cool. (Paperback)
How to Ignite the True Happiness in You
Intense Publishing, 9780615906034, 294pp.
Publication Date: June 29, 2014
* Individual store prices may vary.
Description
Reviews
"A straight-forward, concise self-help guide for readers who have the courage to trust their own feelings."
-Kirkus Reviews
"J.B. Brocato believes that happiness not only feels good; he thinks it is cool He offers 30 practical suggestions for living a more fulfilling life. He wisely balances advice such as 'take time for yourself' with 'contribute to society.' His book offers practical exercises for visioning and goal setting."
-Robert Biswas-Diener, PhD, Author, Happiness: Unlocking the Mysteries of Psychological Wealth and The Courage Quotient: How Science Can Make You Braver
"J.B. Brocato's Happy Is Cool: How to Ignite the True Happiness in You is a book that needs to be shared. It's a practical approach to teaching (and reminding) us what we can do to live a happier and more fulfilled life. Written initially for his children, Brocato shares simple, yet powerful, lessons that not only provoke thought, they call readers of all ages to take action and live happy."
-Berry Fowler, Founder of Sylvan Learning Centers, Fowler School of Business and Executive Coaching, and Fowler International Academy of Professional Life Coaching
"Profound and practical, Happy is Cool is poised to become a classic in the self-help genre. J.B. Brocato guides us to greater happiness with insights into the fundamental thoughts and behaviors that are essential for true well-being. This is a refreshingly cool book."
-Marci Shimoff, #1 NY Times Bestselling Author, Happy for No Reason, Love for No Reason, Chicken Soup for the Woman's Soul
Description
What makes a person truly cool? Genuine happiness.
In Happy is Cool: How to Ignite the True Happiness in You, author and life coach, J.B. Brocato, offers 30 keys to achieving and maintaining what he calls "happy coolness," and its many benefits in both your personal life and career. Learn how to:
- Finally take time for yourself and reconnect with your hopes and dreams
- Strategically manage people who divert you from your goals
- Unleash your creativity in your personal life and at work
- Collect happy moments and inspire yourself to live life to the fullest
- And much more
This easy-to-read guide includes practical worksheets to identify your relationship to each key, envision your future, and set goals to maximize your happiness. You are just pages away from unlocking a truly happy-and cool-life
About the Author
J.B. Brocato is CEO of Intense Coaching and Consulting Worldwide, a firm that specializes in life coaching and business development. As a certified professional coach, he empowers people to live happier, more fulfilling lives. He also practices law with a prominent law firm. Brocato's articles have appeared in "The Huffington Post "and other publications, and he explores the relationship between happiness and sales on his popular business development blog, CruxRainmaking.com. He is also the author of "A Service Provider's Guide to Starting a Unique Business Networking Group." Brocato graduated from Loyola University-Chicago and Northwestern University School of Law, where he served as an editor of the "Northwestern University Law Review." He is based in Chicago.