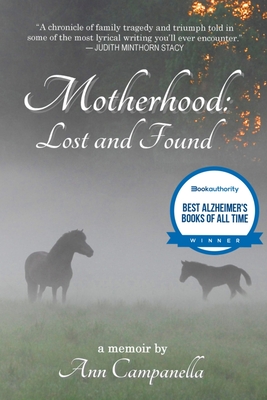 Motherhood
Lost and Found: A memoir
Paperback

* Individual store prices may vary.
Description
Ann Campanella, a freelance writer and horsewoman, returns to North Carolina after a several year absence. In her mid thirties and ready to start a family, she is used to setting goals and accomplishing them. But when Ann experiences a series of miscarriages at the same time her mother shows signs of Alzheimer's, she plunges into an emotional journey that leads her to a deeper understanding of herself and what it means to love. "One of the best Alzheimer's books of all time." - Book Authority.
Bridge, 9780615915371, 302pp.
Publication Date: December 4, 2013
About the Author
Formerly a magazine and newspaper editor, Ann Campanella writes creative nonfiction and poetry. Excerpts from her memoir have been recognized by the Isak Dinesen International Creative Nonfiction Competition, the North Carolina Writers' Network and the Charlotte Writers' Club. She was honored to receive the Poet Laureate Award twice from the North Carolina Poetry Society, and she is the author of What Flies Away, a full-length poetry collection. Ann's writing has appeared in local and national publications from literary journals to the bestselling A Cup of Comfort series, and her poetry has been featured on Garrison Keillor's The Writer's Almanac. She has a degree in English Literature from Davidson College and lives on a small horse farm in North Carolina with her family and animals.