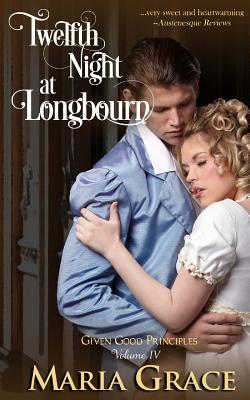 Twelfth Night at Longbourn (Paperback)
Given Good Principles Vol 4
White Soup Press, 9780615938981, 194pp.
Publication Date: December 12, 2013
Description
Twelfth Night-a night for wondrous things to happen. At least for other people. In the months after her sisters' weddings, nothing has gone well for Kitty Bennet. Since Lydia's infamous elopement, her friends have abandoned her, and Longbourn is more prison than home. Not even Elizabeth's new status as Mrs. Darcy of Pemberley can repair the damage to Kitty's reputation. More than anything else, she wishes to leave the plain ordinary Kitty behind and become Catherine Bennet, a proper young lady. Her only ray of hope is an invitation to Pemberley for the holidays. Perhaps there she might escape the effects of her sister's shame. Getting to Pemberley is not as simple as it sounds. First she must navigate the perils of London society, the moods of Georgiana Darcy, and the chance encounter with the man who once broke her heart. Perhaps though, as Catherine, she might prove herself worthy of that gentleman's regard. But, in an instant all her hopes are dashed, and her dreams of becoming Catherine evaporate. Will Kitty Bennet's inner strength be enough to bring her heart's desire? On an ordinary night perhaps not, but on Twelfth Night, it just might be enough.
About the Author
Though Maria Grace has been writing fiction since she was ten years old, those early efforts happily reside in a file drawer and are unlikely to see the light of day again, for which many are grateful. She has one husband, two graduate degrees and two black belts, three sons, four undergraduate majors, five nieces, six cats, seven Regency-era fiction projects and notes for eight more writing projects in progress. To round out the list, she cooks for nine in order to accommodate the growing boys and usually makes ten meals at a time so she only cooks twice a month. She can be contacted at: email: author.MariaGrace@gmail.com. Facebook: facebook.com/AuthorMariaGrace On Amazon.com: amazon.com/author/mariagrace Visit her website Random Bits of Fascination (RandomBitsofFascination.com) On Twitter @WriteMariaGrace On Goodreads: http: //www.goodreads.com/MariaGrace On Pinterest: http: //pinterest.com/mariagrace423/ English Historical Fiction Authors (EnglishHistoryAuthors.blogspot.com) Austen Authors (AustenAuthors.net)"
Advertisement