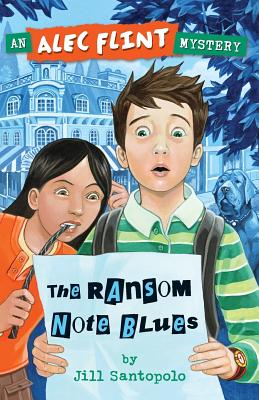 The Ransom Note Blues (An Alec Flint Mystery #2)
Paperback

* Individual store prices may vary.
Description
Laurel Hollows's most undercover sleuth is back on the trail of an exciting new mystery Will Alec Flint be able to crack the case of the missing something? Alec Flint is a super sleuth in training, with one mystery under his belt, and a really great partner named Gina. When Gina's mom, a local newspaper reporter, gets a ransom note at work, Alec and Gina are on the case. The note claims that something belonging to the whole town has been stolen . . . but that something could be anything The partners do their best to spend as much time as possible sleuthing, but their schoolwork keeps getting in the way. The entire fourth grade is doing a unit on the abstract artist Jackson Pollock, but they have more important things to worry about than paintings with lots of paint dripped on them Can the detectives finish all of their school work and find the missing...something... before it's too late?
Roller Coaster Books, 9780615940137, 176pp.
Publication Date: March 8, 2014
About the Author
Jill Santopolo is not a super sleuth, but she is particularly good at identifying paintings--especially hte ones displayed in museums in New York City, where she lives. She received a BA from Columbia University and an MFA from the Vermont College of Fine Arts. Jill is also the author of Alec And Gina's first adventure, The Nina, the Pinta and the Vanishing Treasure, as well as the books in the Sparkle Spa series. You can visit her online at www.jillsantopolo.com.