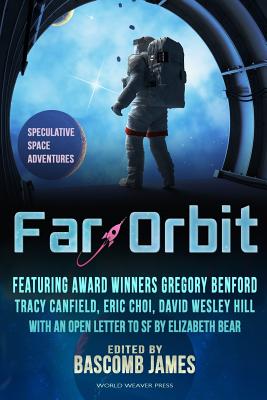 Far Orbit
Speculative Space Adventures
Paperback

* Individual store prices may vary.
Description
Modern space adventures crafted by a new generation of Grand Tradition science fiction writers. Smart, engaging stories that take us back to a time when science fiction was fun and informative, pithy and piquant-when speculative fiction transported us from the everyday grind and left us wondrously satisfied. Showcasing the breadth of Grand Tradition stories, from 1940s-style pulp to realistic hard SF, from noir and horror SF to spaceships, alien uplift, and action-adventure motifs, Far Orbit's diversity of Grand Tradition stories makes it easy for every SF fan to find a favorite. Featuring an open letter to SF by Elizabeth Bear and stories from Gregory Benford, Tracy Canfield, Eric Choi, Barbara Davies, Jakob Drud, Julie Frost, David Wesley Hill, K. G. Jewell, Sam Kepfield, Kat Otis, Jonathan Shipley, Wendy Sparrow, and Peter Wood. "Daring adventure, protagonists who think on their feet, and out of this world excitement Welcome to FAR ORBIT, a fine collection of stories in the best SF tradition. Strap in and enjoy " -Julie E. Czerneda, author of SPECIES IMPERATIVE "Successfully captures the kinds of stories that were the gateway drugs for many of us who have been reading science fiction for a long time. Well done " -Tangent
World Weaver Press, 9780615959245, 280pp.
Publication Date: January 28, 2014
About the Author
Anthologist Bascomb James earned his Ph.D. degree from the University of Notre Dame and was a post-doctoral fellow in the NIH Laboratory of Persistent Virus Diseases. As a clinical virologist, he authored or edited four virology books, wrote a hat-full of scientific papers, and presented countless scientific lectures and workshops. A science-fiction fan since childhood, Bascomb credits his interest in science, engineering, and invention to the sci-fi stories he read as a child. Stories matter. They really do.