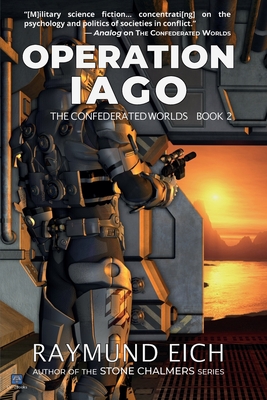 Operation Iago
Paperback

* Individual store prices may vary.
Description
"Military science fiction concentrating] on the psychology and politics of societies in conflict."-Analog, on the Confederated Worlds series
The Confederated Worlds lost the war. Can Lt. Tomas Neumann win the peace?
By the terms of the peace treaty, the citizens of the planet Arden will vote to stay in the Confederated Worlds or join the victorious Progressive Republic.
Newly-minted Lieutenant Tomas Neumann leads his overstretched and demoralized Confederated Worlds Ground Force platoon in a mission that pushes men and machines to their limits, against elusive, deceptive foes out to tilt Arden to the Progressive Republic-and turn the Confederated Worlds against itself.
CV-2 Books, 9780615965352, 208pp.
Publication Date: May 28, 2014
About the Author
Raymund Eich files patent applications, earned a Ph.D., won a national quiz bowl championship, writes science fiction and fantasy, and affirms Robert Heinlein's dictum that specialization is for insects. In a typical day, he may talk with biochemists, chip designers, patent attorneys, epileptologists, and rocket scientists. Hundreds of papers cite his graduate research on the reactions of nitric oxide with heme proteins. His other novels include the first volume in the Confederated Worlds series, TAKE THE SHILLING, and evolutionary psychology hard science fiction novel NEW CALIFORNIA. He lives in Houston with his wife, son, and daughter.