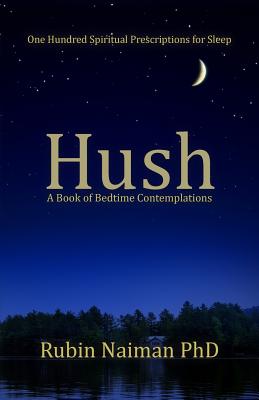 Hush
A Book of Bedtime Contemplations
Paperback

* Individual store prices may vary.
Description
Hush isn't just another book of sleep tips - it's more a book of sleep transformation. Based on an integration of sleep science and spirituality, Hush was written to complement medical approaches with more traditional sacred views of sleep and dreams. Its "one hundred prescriptions" were carefully crafted to speak to both the mind as well as the heart. They are not so much intended to provoke deep analysis, but rather to invoke deep sleep.
Newmoon Media, 9780615979427, 120pp.
Publication Date: May 13, 2014
About the Author
Rubin Naiman, PhD, is a clinical psychologist specializing in integrative sleep and dream medicine. He is the sleep and dream specialist and clinical assistant professor of medicine at the University of Arizona's world-renowned Center for Integrative Medicine, directed by Dr. Andrew Weil. Dr. Naiman is the founder and director of Circadian Health Associates, an organization that offers a broad range of sleep related services, trainings and consultation internationally. He also serves as Director of the Sleep and Dreams Advisory Board for Sleep Studio, LLC. With an extensive background in sleep science, Jungian and archetypal perspectives on dreaming, health psychology and spiritual aspects of psychotherapy, Dr. Naiman is a leader in the development of integrative medicine approaches to sleep and dream disorders. For more than a decade, Dr. Naiman served as the sleep and dream specialist at Canyon Ranch, where he founded the first formal sleep center at a Health Resort. Subsequently, he served as director of sleep programs for Miraval Resort. Dr. Naiman has worked with a diverse clientele ranging from Fortune 500 CEOs to professional athletes, from homemakers to statesmen and entertainers. He has also provided consultation to organizations ranging from world-class resorts to the rock music industry. Dr. Naiman is the author of a number of groundbreaking works on sleep, including Healing Night, Healthy Sleep (with Dr. Weil), To Sleep Tonight, The Yoga of Sleep and Hush: A Book of Bedtime Contemplations. He has also authored a number of professional book chapters and other papers on sleep. His work has been featured in many major magazines, newspapers, as well as on radio and television programs in the U.S and abroad.