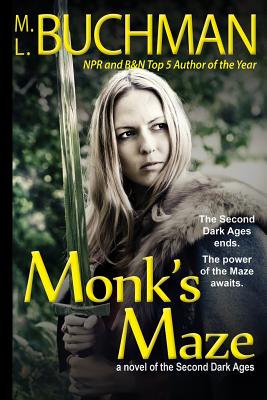 Monk's Maze
Paperback

* Individual store prices may vary.
Description
The Age of Technology died in a single catalysmic night. Now the Second Dark Ages ends.
A lone monk arrives bearing a perilous legacy. A woman guards against his return. But she didn't expect the gift. A gift of power meant for a woman's hands. Of power over the past and the future. Of power over THE MONK'S MAZE.
A small island, at the western edge of Scotland. For 3,000 years a home to Druids, monks, and sheep. By the year 2072, the most feared place on Earth. Deservedly so. For beneath wind and through stone lies an ancient labyrinth of immense power. The Age of Technology ended here in a single, cataclysmic night. It is the end of the Second Dark Ages.
The labyrinth awaits. -Iona, Scotland, 5 April 2252 A.D.
Buchman Bookworks, Inc., 9780615985480, 418pp.
Publication Date: March 6, 2014
About the Author
Matthew started reading SF/F at ten and writing since he was, well, a little older and now has over 20 novels in print. He has flown, sailed, designed computer systems, bicycled solo around the world, published maps, and built houses in roughly that order. He is constantly amazed at what you can do with a BA in Geophysics. He revels in his family, his writing & his island home in U.S. Pacific Northwest.