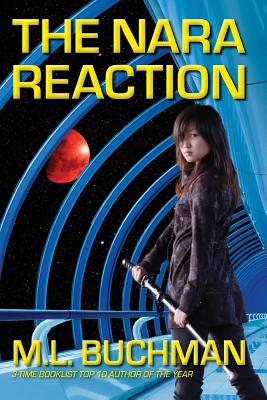 The Nara Reaction (Paperback)
Buchman Bookworks, Inc., 9780615985541, 600pp.
Publication Date: March 6, 2014
* Individual store prices may vary.
Description
The Crash and Smash destroyed the most feared race in history.
All but one. Ri, the child warrior: Born of the shattered streets of Nara, Japan. Where books burn to heat the night. The modern world: Ruled with the iron fist of the Second Human Genome Project. Her rescue: Exposes humanity to the greatest warrior of the modern age. The likes of which it can no longer control.
The Earth died. The moon melted to glass. Humanity reached for the stars, but too late Mankind's last refuge lies aboard an unfinished colony ship to the stars. Seven biosphere habitats. Ten thousand people. Too little time. Ri stands alone against death for all. Bryce, the clone of the world's cruelest dictator, tends bar and hides from his past. Their only chance is in to work together. But they have to hurry, before they're both caught by THE NARA REACTION.
About the Author
M. L. Buchman has over 50 novels and 30 short stories in print. His military romantic suspense books have been named Barnes & Noble and NPR "Top 5 of the year" and twice Booklist "Top 10 of the Year," placing two titles on their "Top 101 Romances of the Last 10 Years" list. He has been nominated for the Reviewer's Choice Award for "Top 10 Romantic Suspense of the Year" by RT Book Reviews and was a 2016 RWA RITA finalist. In addition to romance, he also writes thrillers, fantasy, and science fiction. In among his career as a corporate project manager he has: rebuilt and single-handed a fifty-foot sailboat, both flown and jumped out of airplanes, designed and built two houses, and bicycled solo around the world. He is now making his living as a full-time writer on the Oregon Coast with his beloved wife and is constantly amazed at what you can do with a degree in Geophysics. You may keep up with his writing and receive exclusive content by subscribing to his newsletter at www.mlbuchman.com.