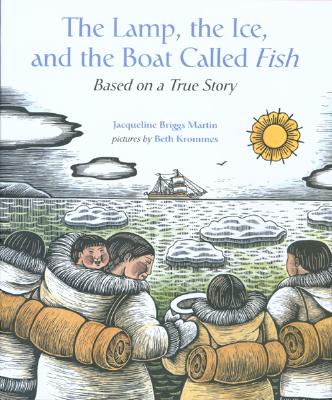 The Lamp, the Ice, and the Boat Called Fish
Hardcover

* Individual store prices may vary.
Other Editions of This Title:
Paperback (11/28/2005)
Description
In 1913, a boat named Karluk, Aleutian for "fish," part of the Canadian Arctic Expedition, became stuck in the Arctic ice. On board were a captain and crew, scientists and explorers, a cat, forty sled dogs, Inupiaq hunters, and an Inupiaq family with two small girls. Even with the Inupiaq and their skills of hunting and sewing, even with the family's care and wisdom, even with the compassion and courage of their captain, odds for survival in the cold, dark Arctic seem against the passengers of the Karluk.
Here is a riveting, unforgettable story, poetically told and exquisitely illustrated with rounded scratchboard art that captures the strength and grace of Inupiaq culture. Details of centuries-old crafts and skills — of sewing boots from caribou legs and ugruk skin, of quickly cutting snow houses, of wearing wooden goggles to ward off snowblindness — will enrich modern imaginations. And by the story's end, listeners will know something of the way of life in the high north, something of the song of the place, the wide sky, the sound of the wind, the ptarmigan.

Clarion Books, 9780618003419, 48pp.
Publication Date: February 26, 2001
About the Author
Jacqueline Briggs Martin is the author of Snowflake Bentley, winner of the 1999 Caldecott Medal, and The Lamp, the Ice, and the Boat Called Fish, an ALA Notable Book, a Bulletin Blue Ribbon Book, Riverbank Review Finalist, Notable Social Studies Trade book and winner of The Golden Kite Award for Illustration. She grew up on a farm in Maine much like the one in this story. She lives in Mt. Vernon, Iowa.
or
Not Currently Available for Direct Purchase