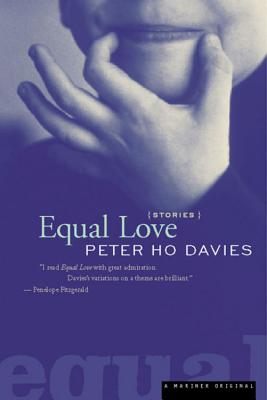 Equal Love (Paperback)
Mariner Books, 9780618006991, 192pp.
Publication Date: February 17, 2000
* Individual store prices may vary.
Description
Peter Ho Davies's award-winning debut collection, The Ugliest House in the World, drew comparisons to the work of Raymond Carver, James Joyce, and V. S. Naipaul. The Washington Post hailed it as "astounding . . . Davies has left a unique, definitive footprint in the soil of contemporary short fiction." In his new collection, Davies's unforgettable characters—a Chinese son gambling with professional mourners, a mixed-race couple who experience a close encounter—strive for a love that transcends time, race, and sexuality. These are the stories of a sandwich generation—children of one century, adults of the next—caught between debts to their parents and what they owe their own offspring. Shot through with humor and grace, Equal Love confirms Davies's reputation as one of his generation's foremost writers.
About the Author
PETER HO DAVIES is on the faculty of the graduate program in creative writing at the University of Michigan. His debut collection, The Ugliest House in the World, won the John Llewellyn Rhys and PEN/Macmillan awards in Britain. His second collection, Equal Love, was hailed by the New York Times Book Review for its "stories as deep and clear as myth." It was a finalist for the Los Angeles Times Book Prize and a New York Times Notable Book. In 2003 Davies was named among the "Best of Young British Novelists" by Granta. The Welsh Girl was his first novel and his second, The Fortunes, was published in September 2016. The son of a Welsh father and Chinese mother, Davies was raised in England and spent his summers in Wales.
Praise For Equal Love…
"The subject matter of most of these stories--the small but also vast world of relationships--is well-traveled territory for short story writers. But Ho's own geographical history (born in England to Welsh and Chinese parents, now lives in the U.S.) helps give his work an original stamp. This collection demonstrates a familiarity with the often-subtle differences between daily life in the U.S. and the U.K., and Ho is equally at home when he sets "The Next Life" in San Francisco's Chinatown. With his variety of settings comes a variety of voices: the narrator of "Brave Girl," trying to help her father navigate the aftermath of divorce; a mathematician in "Small World," revisiting the scenes of his Irish-Catholic boyhood and his first love; a retired encyclopedia salesman who can't stop selling himself in "Sales"; a junkie trying to regain custody of her son in "Everything You Can Remember in 30 Seconds Is Yours to Keep." Ho manages to convey all his characters' predicaments with finesse, and his emotional and geographical range are equally wide." Mary Ellen Quinn, Copyright© 2000, American Library Association. All rights reserved Booklist, ALA

"Degrees and permutations of estrangement from loved ones and homeland are examined with subdued emotion in this second collection (The Ugliest House in the World, 1997) from an author of unusually mixed (Chinese-Welsh) ancestry. The first of these 12 stories, ``The Hull Case,'' may be the best. Based on the true history of Betty and Barney Hill, it reshapes a reported incident of alien abduction into plaintive portrayal of an interracial New Hampshire couple whose ``story'' of their ordeal aboard a spaceship may just be an expression of their yearning toward a place where they can belong. A handful of the stories feel fragmentary, capable of much fuller development: for example ``Today is Sunday,'' in which a father and son sort out their wary relationship during a nursing home visit to the latter's senile grandmother; ``Sales,'' which seems to be Davies's version of ``Death of a Salesman''; and the title piece, a relentlessly terse revelation of the varieties of sexual attraction, fidelity, and truthfulness indulged by two married couples who've been longtime friends. Stories that benefit from Davies's economical, suggestive approach include ``Frogmen,'' a well-constructed portrayal of how a neighborhood full of preadolescent kids reacts to the disappearance of one of their friends, and ``Cakes of Baby,'' in which a tense Thanksgiving family get-together brings out the tensions in a sophisticated couple's childless marriage. Even better are ``On the Terraces,'' which dramatizes in carefully understated sentences the confused emotions felt by a young man keeping vigil as his beloved older brother lies dying of AIDS; and ``Small World,'' about a married insurance salesman's brief fling with an old girlfriend, which he recognizes as an effort to recapture and somehow alter his past. Interesting stories, full to bursting with promising unexplored further dramatic possibilities. It may be time for Davies to attempt his first novel." Kirkus Reviews

"We infect our children with ideas about love. Peter Ho Davies hammers it home in these 13 stories, which show, in no uncertain terms, exactly how. Our explanations for divorce are inadequate ("We love you, but we don't love each other anymore"; therefore, the 6-year-old discovers, love is impermanent); the reasons we marry are inadequate and infinite; and our ideas about faithfulness are so various as to be equally inadequate. Children in Davies' stories climb to adulthood and parenthood with unusable scaffolding. One of my favorites is "The Hull Case," about a mixed-race couple abducted by aliens. As they report the incident to an army colonel, subtle questions of trust and credibility bubble up between the colonel, the black husband and the white wife. She is convinced that if she reveals everything about the abduction, she will be believed. He feels it is hopeless to expect that anyone will believe them; he isn't sure he believes it himself. How it feels to be doubted and denied trust is described with the same dignified precision Davies uses to describe the inner architecture of all his characters." The Los Angeles Times

"Mr. Davies writes with impressive skill....Mr. Davies can be at his best, in fact, when taking the most chances. The most moving and suggestive piece in the collection is also on the wild side. A middle-class black man, happily married to a white woman and living peacefully in a New England community, has his hapiness abducted by a visitation from aliens. Whether it is real or hallucinated is not clear, nor is it particularly important except that it leaves the reader a little off balance, a little exposed. What we are exposed to is universal: the vulnerability to outside blows of even the most loving human bonds." The New York Times

"I read EQUAL LOVE with greeat admiration. Davies' variations onnnnnn a theme are brilliant, with very complex feelings, often indicated by seemingly small actions, so that the comparison with Joyce's PORTRAIT OF THE ARTIST AS A YOUNG MAN is justified (for once)." -Penelope Fitzgerald, author of THE BLUE FLOWER, THE BOOKSHOP, etc.

"Peter Ho Davies' stories stand out in contemporary fiction for their clarity, wisdom, and compassion. They are beautifully written, filled with a kind of intelligence and generosity of temperament that is neither square nor predictable." -Charles Baxter, author of BELIEVERS, FIRST LIGHT, and HARMONY OF THE WORLD

"Peter Ho Davies is a wonderful writer and these are wonderful stories: quietly dazzling, full of humour and humanity and the impossible compromises of love. EQUAL LOVE is a splendid collection." -Margot Livesey, author of CRIMINALS, THE MISSING WORLD, and HOMEWORK

"The best thing about Peter Ho Davies stories is not his extraordinary language (it's gorgeous), or his complicated plotlines (they're so tight and perfect, they're undetectable), or his characters (varied and real and lovely). It's not even his wild and realized ambition. The best thing is that every one of the stories in _Equal Love_ is its own world, touching and funny and completely different from the last, and satisfying in a new way. He can do anything, and he does." -- Elizabeth McCracken, author of THE GIANT'S HOUSE and HERE'S YOUR HAT WHAT'S YOUR HURRY

"EQUAL LOVE has many moments of humor and sweetness despite its somewhat wistful visioun of human happiness. Love itself is seldom parceled out equaly or deservedly. But the attempt to achiecve some sort of precarious balance affords Davies the opportunity for much thougtful storytelling."

Febrary 6, 2000 The Chicago Tribune

"The characters who cross bordersin Davies' fictional landscapes are either British or American; the borders they cross are most often the boundaries of their marriages and families. In Davies' capable hands, these migrations are always meaningful and often surprising. " The San Francisco Chronicle

"Love is often called the great equalizer. That may be true in theory, but it's usually not how marriages work. The reality is that love is uneven and predictably non-transcendent, however much optimism a relationship contains. Clearly this comes as no surprise to Peter Ho Davies, who has followed his first book, "The Ugliest House in the World," a short-story collection that won the MacMillan Silver PEN Award and the John Llewellen Rhys Prize, with a collection pointedly titled "Equal Love." Newsday