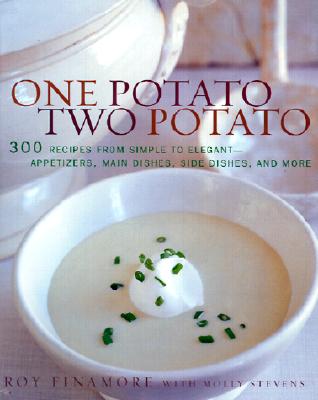 One Potato, Two Potato (Hardcover)
300 Recipes from Simple to Elegant - Appetizers, Main Dishes, Side Dishes, and More
Rux Martin/Houghton Mifflin Harcourt, 9780618007141, 592pp.
Publication Date: October 18, 2001
* Individual store prices may vary.
Description
Everyone loves potatoes. This book transports cooks beyond the usual side dishes and introduces them to the secrets and specialties of great chefs and cooks the world over. Finamore shows how to prepare spectacularly simple appetizers, including dips, chips, and showstopping cocktail potatoes made from a few ordinary ingredients. He presents dozens of soups and salads, including rich Summer Vichyssoise and Herb Garden Potato Salad. There are more than fifty main-dish possibilities, such as Sunday Lamb with Proper Roast Potatoes and Chicken Stuffed with Potatoes and Shiitake Mushrooms — not to mention a sophisticated rendition of Shepherd's Pie. The potato turns up as the hidden ingredient in such breads as Potato Cheddar Bread with Chives and in such desserts as moist Farmhouse Chocolate Cake. Finamore shows how to master crisp steak fries, silky mashes, and sumptuous gratins. A bonus feature of the book is the sweet potato, in dishes from a delightfully nostalgic Baked Sweet Potatoes with Marshmallow to an urbane Semifreddo with Chocolate Sauce.

About the Author
ROY FINAMORE has worked as a cookbook editor for thirty years, most recently at Clarkson Potter. Among the authors he has published are Martha Stewart, Ina Garten, Tom Colicchio, Diana Kennedy, Anne Willan, Gale Gand, and Lee Bailey. A cooking teacher, as well as a sought-after cookbook collaborator and food and prop stylist, his books include Tasty, which won a James Beard Award, Fish Without a Doubt, and One Potato, Two Potato.
Praise For One Potato, Two Potato: 300 Recipes from Simple to Elegant - Appetizers, Main Dishes, Side Dishes, and More…
If there were any doubt an ingredient as basic as the potato could result in exciting cooking, this tribute to the humble spud should dispel it. Cookbook editor Finamore and Fine Cooking magazine's Stevens have paired up to produce an impressive, wide-ranging potato Bible which covers everything one could hope to know about Solanum Tuberosum. The authors do a heroic job of categorizing the thousands of potato varieties, from waxy vs. starchy to news, blues, yellows and sweets.The 300-plus recipes are organized by different cooking techniques - soups, gratins, baked, roasted, fried (29 recipes for mashed alone!); each begins with a brisk run-through of potato science and chemistry. Ambitious home cooks will delight in fussy offerings like "Venison and Potato Stew Cooked in a Pumpkin" and the infamously tricky Pommes Souffles (aptly subtitled "Heartbreak Disguised as a Potato"). But even simple recipes (Basic Mashed Potatoes, Classic French Fries)have been carefully tested and scaled to yield consistent results. Traditional potato recipes from around the world - Vichyssoise, pierogi, samosas, shepherd's pie, red flannel hash, gnocchi, and latkes - all make an appearance. The authors have also secured recipesfor signature dishes by such celebrities as Martha Stewart, Tom Colicchio, Julie Sahni and Diana Kennedy. Although this is not the first potato cookbook on the market, it is certainly the most comprehensive; written with heart and humor and as versatile as the potato itself, this delightful volume should be at home on almost any cook's bookshelf. (9/10/01) Publishers Weekly, Starred

"In this encyclopedic tribute to the glories of the lowly tuber, celebrated cookbook editor Roy Finamore deploys potatoes in an astonishing 300 recipes... french fries, mashed potatoes, shepherd's pie - make this a sort of all-potato ''Joy of Cooking"...it's destined to be manhandled for years to come, until it turns into a spattered relic with a torn cover and crumbs between the pages. Such an inglorious but affectionate end will be fitting enough for this loving tribute." Boston Globe
or
Not Currently Available for Direct Purchase