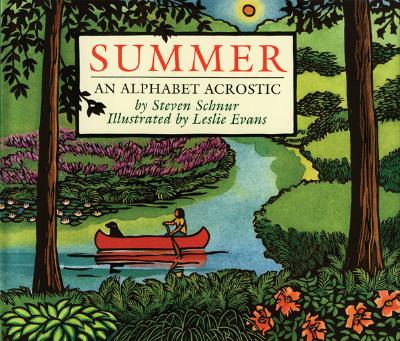 Summer: An Alphabet Acrostic (Library Binding)
An Alphabet Acrostic
Clarion Books, 9780618023721, 32pp.
Publication Date: March 1, 2001
* Individual store prices may vary.
or
Not Currently Available for Direct Purchase
Description
Sandy beaches, juicy watermelons, and porch swings are just a few of the warm-weather delights featured in this inventive alphabet of acrostic poems about summer. Like the previous seasonal collaborations from Steven Schnur and Leslie Evans, Autumn and Spring, this book contains twenty-six poems, alphabetically arranged. Each reveals a playful acrostic when read vertically, and each is accompanied by a glowing woodcut illustration.
Praise For Summer: An Alphabet Acrostic…
"...as blissfully evocative as it is technically accomplished. Should be inspiration for classrooms, poets, and wordworkers." Kirkus Reviews

This attractive companion to Autumn (1997) and Spring (1999) combines clever acrostic word poems with glowing linoleum-cut prints by Leslie Evans, one page for each letter of the alphabet. Caught by the word game of reading letters vertically, children will also enjoy the simple physicality of the brief poems and the bright active pictures that capture the fun and beauty of the season. One of the best is Beach (Blankets and umbrellas/Endless miles of sand/And the/Constant/ Hum of wind and waves"). There's a sense of the season's passing as Yawls and sailboats are hauled out of the water, and the stars of autumn can be seen in the clear Zodiac of the sky. The setting is a cabin the mountains close by a glittering blue lake, but the images reach out everywhere. Crossword buffs will enjoy the play and so will readers, writers, and artists in classrooms and libraries, especially in summer.
Booklist, ALA

This concept book features a short poem in which the first letter of each line spells out the word it represents. "Daisy" becomes "Dragonflies dart/And hover/Inspecting white flowers with/Sunlike/Yellow centers." The sheer inventiveness of each poem is impressive, but most of them flow effectively, avoiding the forced rhythm that the acrostic form can impose. Neatly framed linoleum-block illustrations feature rich colors and bold lines that capture the brightness of the days. The progression from A to Z coincides with a move toward fall. Most, but not all of the illustrations feature a girl and her dog, adding to the impression that the readers are moving through a particular summer rather than simply getting a list of relevant items. The clever wordplay combined with the vibrant aura of summer captured in the art and poetry make this an appealing title.
School Library Journal

Winsome summertime images of beaches, hiking, and picnics are captured in hand-colored linoleum block illustrations and brief free verse peoms that celebrate the season, from "the longest days of the year" to the appearance of "autumn's twinkling constellations." Horn Book Guide
Advertisement