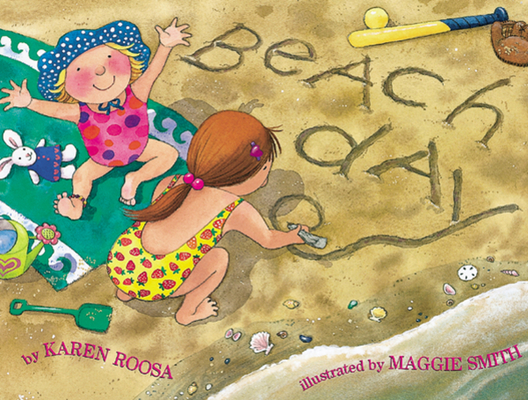 Beach Day (Hardcover)
Clarion Books, 9780618029235, 40pp.
Publication Date: March 19, 2001
Other Editions of This Title:
Board book (6/5/2018)
* Individual store prices may vary.
Description
In this charming picture book, a cheerful family tumbles out of the car and onto the beach, ready for a perfect day. Buoyant verse just right for reading aloud and bright, playful illustrations capture the singular feeling of a hazy, lazy day by the ocean, complete with a ball game with new friends, water-skiers and sailboats, and a picnic lunch of fried chicken and deviled eggs. This book is a captivating introduction to the beach for young children and an irresistible gift for beach lovers of any age.

About the Author
Karen Roosa is the author of Beach Day, which was named a Bank Street Best Children's Book of the Year. She lives with her family in Lancaster, Pennsylvania.
 
 
Maggie Smith has written and illustrated many picture books including My Blue Bunny, Bubbit and Beach Day. An accomplished sewist and owner of the Etsy shop Maggierama, she lives in Massachusetts. Visit her online at maggiebooks.com.
Praise For Beach Day…
The excitement and enthusiasm of the day are perfectly captured by the artist's bright, lively watercolors and the author's active, playful text. School Library Journal

"It is a land and waterscape that reaches right down into our primordial souls — the beach, here given full inconic treatment. Using scant couplets to convey the most elemental pleasures of a day at the beach, and enticingly depicted in Smith's watercolors, this will call up memories of any reader who has spent time on the ocean's shore. From that first rush down the dunes and onto the strand—"Waves roar/ Rush,and soar!/ Rolling, crashing/ To the shore" —to the tramp back out—"Sun-warmed skin, contented grin"— it is an experience unlike any other and Roosa's got it just right. Sandcastles, swimming, softball, snoozing. Pictured details entice: kicking off one's shoes, chasing sand crabs, enjoying trays of yummy lunch. "Noon light/ Shimmers bright/ In the distance,? Hot and white." Appetite and taste take on a special edge, and then the hit of post-lunch langour: "Waves lapping/ Babies napping/ On the water/ Sails are snapping." Good stuff, simple and viscerally transporting, the waft of salt strong from the page. Over too soon." Kirkus Reviews

"It is a land and waterscape that reaches right down into our primordial souls — the beach, here given full inconic treatment. Using scant couplets to convey the most elemental pleasures of a day at the beach, and enticingly depicted in Smith's watercolors, this will call up memories of any reader who has spent time on the ocean's shore. From that first rush down the dunes and onto the strand—"Waves roar/ Rush,and soar!/ Rolling, crashing/ To the shore" —to the tramp back out—"Sun-warmed skin, contented grin"— it is an experience unlike any other and Roosa's got it just right. Sandcastles, swimming, softball, snoozing. Pictured details entice: kicking off one's shoes, chasing sand crabs, enjoying trays of yummy lunch. "Noon light/ Shimmers bright/ In the distance,? Hot and white." Appetite and taste take on a special edge, and then the hit of post-lunch langour: "Waves lapping/ Babies napping/ On the water/ Sails are snapping." Good stuff, simple and viscerally transporting, the waft of salt strong from the page. Over too soon." Kirkus Reviews

Young readers will be searching for flip-flops and sunscreen upon finishing this kicky look at a summer day spent at the shore. . . . All told, this book will have the whole family hankering for a day by the water.
Publishers Weekly

The lively art in deep, vivid watercolor washed is filled wit hwell-observed details. Kids will have fun poring over and talking about the illustrations as they find new stories in the visuals.
Booklist, ALA, Boxed Review

Roosa's happy verse perfectly captures a sunny beach day full of salty splashing and play. . . .With warm, bright watercolor illustrations that are packed with inviting, authentic detail, this book is presents an ideal visit to the shore.
Horn Book Guide