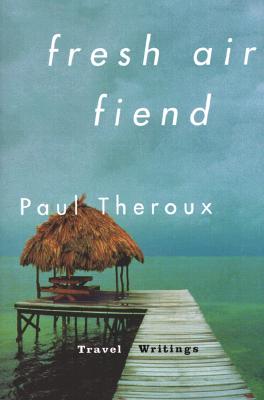 Fresh Air Fiend
Travel Writings
Hardcover

* Individual store prices may vary.
Other Editions of This Title:
Digital Audiobook (9/25/2008)
Paperback (5/1/2001)
Paperback (8/1/2011)
Description
In this remarkable collection of essays and articles written over the last fifteen years, Paul Theroux demonstrates how the traveling life and the writing life are intimately connected. Not simply an escape from the mundane, travel has always been a creative act for Theroux. His journeys in remote hinterlands and crowded foreign capitals provide the necessary perspective to "become a stranger" in order to discover the self.
Wonderfully broad in scope, thought, and feeling, Fresh Air Fiend touches down on all five continents and floats through most of the seas in between. From the crisp quiet of a solitary week spent in the snow-bound Maine woods, to the expectant chaos of Hong Kong on the eve of the Hand-over, to a small Pacific island where atomic bombs were detonated, Theroux is the perfect guide -- casually informative, keenly observant, wry, and entertaining. As Time has written, Theroux "serves as both the camera and the eye, and both the details and the illusions are developed with brilliance." He also reaches back into his past to tell of his earliest ventures into Africa as a Peace Corps volunteer, treats us to insightful readings of his favorite travel books, and reveals the fascinating stories behind some of his own.
Fresh Air Fiend is a companion volume to Theroux's earlier, much beloved Sunrise with Seamonsters, but this is his first collection devoted completely to travel writing, for which the author of such classics as The Great Railway Bazaar and Riding the Iron Rooster is justly famous.
Traveling with Theroux is a literary adventure of the first order, never a languid luxury cruise, always an insightful journey to the heart and soul of a place and its people. Fresh Air Fiend is the ultimate good read for anyone fascinated by travel in the wider world or curious about the life of one of our most passionate travelers.
Praise For Fresh Air Fiend: Travel Writings…
The prolific Theroux (Sir Vidias Shadow, 1998, etc.) gives full vent to his wanderlust in this virtuoso collection of travel essays, all but one of which were written after his prior aggregation, Sunrise With Seamonsters (1984). Like Thoreau, who is something of a kindred spirit, Theroux combines a flinty individualism verging on crankiness, a curiosity about all manner of things, an almost pantheistic delight in nature, and a real grace of expression. Writing, he notes, is like digging a deep hole and not quite knowing what you are going to find, like groping in a dark well-furnished roomsurprises everywhere, and not just remarkable chairs but people murmuring in the weirdest postures. This description is just as apt, however, for explaining how he approaches the travel genre. As well as anyone writing in this deceptively narrow vein, Theroux understands how to filter the sights and sounds of such places as an African bush, the Yangtze River, or Christmas Island through the prism of his own personality. Essays are grouped thematically in sections dealing with his reminiscences, experiences as a kayaker and bicyclist, China, the Pacific, books of travel (by himself and others), profiles and appreciations of other writers, fugues about bizarre practices of other cultures, and other places in Europe, Asia, and the US. Theroux can assume all sorts of guises: reporter (sharp dissections of preTiananmen Square China and pre-takeover Hong Kong), Boswell to other writers similarly compelled to write about the world (Bruce Chatwin, Graham Greene), critic (a review of William Least Heat-Moons PrairyErth), and lover of solitude (too numerous to mention). He can be scathingly funny on his Peace Corps experiences, discerning on the rigors of polar exploration, clinical on illnesses he's contracted on five different continents, and lyrical on exotic lands threatened by commercialization. A feast for both Theroux aficionados and those lucky enough to experience his distinctive world-view and evocative prose for the first time. (Author tour) -- Copyright ©2000, Kirkus Associates, LP. All rights reserved.

Kirkus Reviews

"Theroux has established himself in the tradition of Conrad, or perhaps Somerset Maugham." The New York Times

"Theroux the traveler is serious in his energy and in his boundless determination to see what he wants to see . . . He is an indefatigable voyager." The Washington Post

"An irresistible storyteller, able to hook you with his first few lines. He dazzles not just with the number of places he writes about but the number he can evoke as if they were home." The Chicago Tribune

"What makes Paul Theroux so good is what always separates the fine writers from the pack: his ability to look at the familiar in a fresh, original way - and make us richer for it." The Philadelphia Inquirer

"[Theroux's] books have enriched the travel literature of the century." USA Today
Houghton Mifflin Harcourt, 9780618034062, 480pp.
Publication Date: May 1, 2000
or
Not Currently Available for Direct Purchase