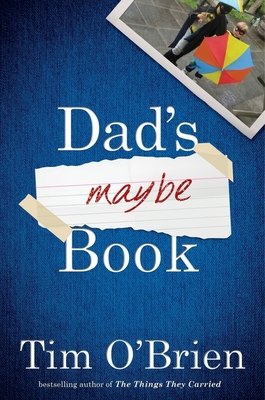 Dad's Maybe Book
Hardcover

* Individual store prices may vary.
Other Editions of This Title:
Digital Audiobook (10/13/2019)
Paperback (5/12/2020)
MP3 CD (10/14/2019)
Description
Best-selling author Tim O'Brien shares wisdom from a life in letters, lessons learned in wartime, and the challenges, humor, and rewards of raising two sons.
"We are all writing our maybe books full of maybe tomorrows, and each maybe tomorrow brings another maybe tomorrow, and then another, until the last line of the last page receives its period."
 
In 2003, already an older father, National Book Award–winning novelist Tim O'Brien resolved to give his young sons what he wished his own father had given to him—a few scraps of paper signed "Love, Dad." Maybe a word of advice. Maybe a sentence or two about some long-ago Christmas Eve. Maybe some scattered glimpses of their rapidly aging father, a man they might never really know. For the next fifteen years, the author talked to his sons on paper, as if they were adults, imagining what they might want to hear from a father who was no longer among the living.
 
O'Brien traverses the great variety of human experience and emotion, moving from soccer games to warfare to risqué lullabies, from alcoholism to magic shows to history lessons to bittersweet bedtime stories, but always returning to a father's soul-saving love for his sons.
 
The result is Dad's Maybe Book, a funny, tender, wise, and enduring literary achievement that will squeeze the reader's heart with joy and recognition.
Praise For Dad's Maybe Book…
"If this does, in fact, prove to be the last thing he writes, it is a touching conclusion to a literary career that has left us with a shelf of enduring novels, memoirs and short stories. Mr. O'Brien, like Hemingway, didn't necessarily write about war as much as something larger: our shared humanity." —Wall Street Journal "[A] stirring blend of memoir, letters to his young sons, and meditations on the humbling nature of parenthood . . . It's a work that's the spiritual inheritor of John Steinbeck's Travels With Charley and Kurt Vonnegut's A Man Without a Country. Like those, Dad's Maybe Book dwells on the state of America and American life. He takes absolutism to task, finds qualifications for his own pacifism and considers the paradox of a moral society that allows for forever war."  —TIME Magazine "Brilliant . . . To say the book is about 'fatherhood' is akin to saying that Catch-22  is about World War II." —VVA Veteran (Vietnam Veterans of America) "This moving, heart-wrenching book, so raw in the best of all senses, will make you weep after exulting in life's energies and 'maybes.' It is genuinely human at every level." —Providence Journal "[A] poignant, resolute meditation on parenthood and on life."  —The Oregonian "Tim O'Brien is back in top form . . . Rather than as a war writer, O'Brien might also object to being thought of as a spiritual writer, the way one thinks of Camus, Hemingway, or Tolstoy. But there he is. One of the essentials." —DeWitt Henry,Woven Tale Press "This book should resonate with any parent who lies awake at night pondering the meaning of existence and what sort of legacy should be left behind . . . a satisfying finale to O'Brien's illustrious career." —Lincoln Journal Star   "A bountiful treasury of fatherly advice, memoir, literary criticism, history, political commentary, and a dash of magic and miracles . . . There are smiles and tears awaiting the reader on every page of this often emotionally charged book, and enough wisdom in it about what it means to be a parent, and a decent human being, to fuel many hours of personal recollection and reflection." —BookReporter   "A gorgeous book, a love letter and legacy." —Psychology Today's "One True Thing" blog   "This loving gift to [O'Brien's] now-teenage sons is sprinkled with literary criticism, writing tips, thoughts on his relationship with his father and philosophy on aging and mortality . . . Tender and hilarious." —Minneapolis Star Tribune "[O'Brien] poignantly captures the trials of parenthood... Interspersed throughout are memoiristic chapters sharing his fears and political awakening during his military service in Vietnam and passionately articulating his antiwar beliefs. Like most dads, O'Brien carries the hopes, fears, and dreams of his children in his own heart."  —Booklist   "A warm account of life as an older dad with two growing sons." —Milwaukee Journal-Sentinel   "A collection of&mdash —
Mariner Books, 9780618039708, 400pp.
Publication Date: October 14, 2019
About the Author
TIM O'BRIEN received the 1979 National Book Award for Going After Cacciato. Among his other books are The Things They Carried, Pulitzer Finalist and a New York Times Book of the Century, and In the Lake of the Woods, winner of the James Fenimore Cooper Prize. He was awarded the Pritzker Literature Award for lifetime achievement in military writing in 2013.